WANTED:
1957 Chevrolet Convertible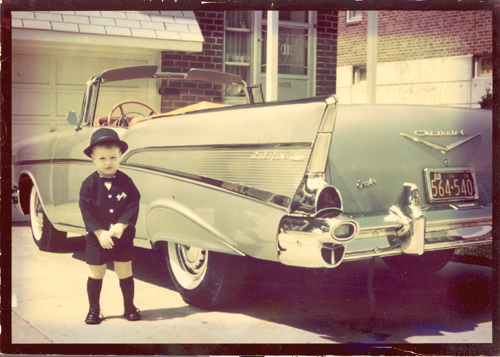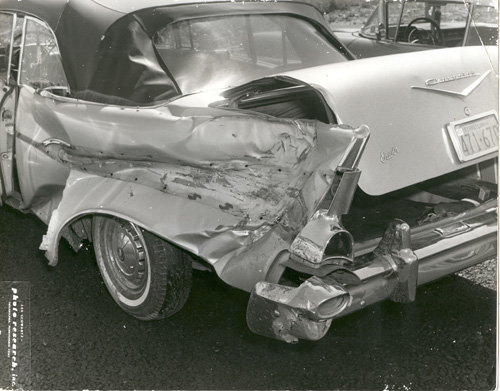 Help me find and build a tribute to my late Uncle Tony DePaul's 1957 Chevy Convertible in Inca Silver. This is the car I dreamed of owning when I got my drivers license in 1969 but the car was totaled in July of that year and parted out to my dismay. All that remains from the car is the original top boot bag! :(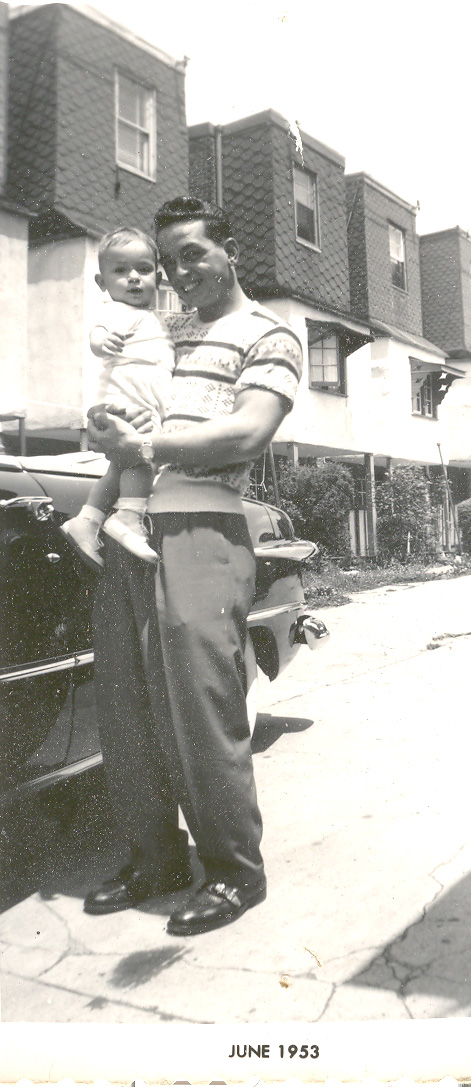 That's me and Uncle Tony with the 1951 Ford Convertible he traded on the '57!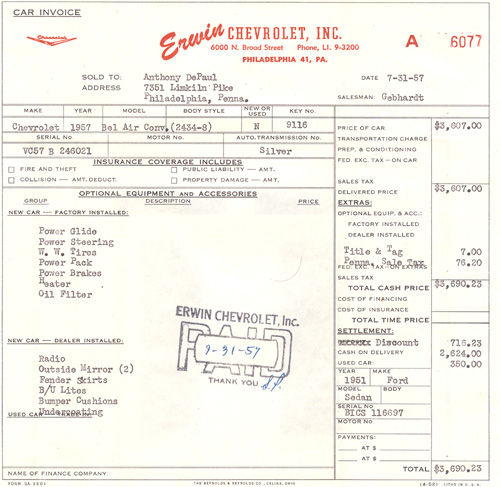 1957 Chevy Convertible Specs Wanted
1st choice: Unrestored original "Barn Find" Any Color.
2nd Choice: Older restoration in any exterior color as long as the interior is red and silver.
3rd Choice: Restoration Project Car that you no longer have the time or funds to complete.
Body needs to be solid or floors and sheet metal correctly restored. Options not important. Chrome condition not important. Mileage not important.
A "western patina" is acceptable similar to what I've seen on Arizona and California cars 40-50 years old that have never been painted. Light surface rust on the body, floors and supports solid. I know I'm dreaming but what the heck.
If you have what I'm describing and are looking to sell, I'm your guy. I restored these cars in the 1970s and I want to restore one more before I'm on Social Security.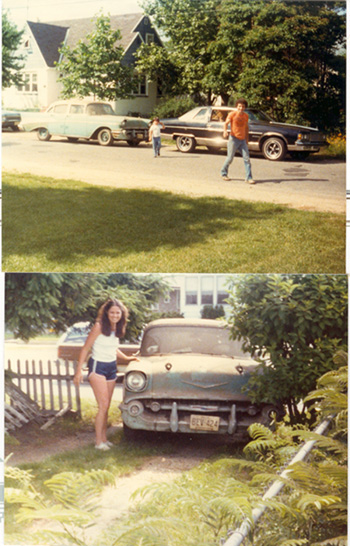 Bringing home another "barn-find" in 1979. It was a package deal.
I don't have a body shop and I'm not a classic car dealer. Just a 1957 Chevy enthusiast since Uncle Tony bought the Inca Silver convertible shown above in July, 1957. I sold my last '57 Chevy convertible in 1981. Originally Tropical Turquoise, the new owner and a customer of C.A.R.S. Inc. restored it to Sierra Gold. I think they still use the interior shot in their catalog and display ads. This was in 1981-82 when my ex-wife and I helped open the cut and sew department, recreating '57 Chevy interior kits for Larry Wally and Bob Chauvin! Pete Ciadella may have been the first with reproduction "presewn" seat upholstery, but our kits were the best.
Contact: Vinny DiMezza
Blackwood, NJ
Office:856-228-0152
Call my cell: 856-466-8002
email information or pictures to vinny@phillymint.com
That's me in 1974 with my Dusk Pearl Hardtop when I joined the original Classic Chevy Club. I helped start the Garden State chapter with an informal meet @ Cooper River Park and we were swamped with 55-56-57 Chevys and enthusiasts responding to a small ad in the Phila Inquirer!
1957 Chevy Wanted 1957 Chevy for sale 1957 chevy survivor wanted 1957 chevrolet bel air wanted 1957 chevy unrestored wanted 1957 chevy original wanted
1957 Chevy Wanted 1957 Chevy for sale 1957 chevy survivor wanted 1957 chevrolet bel air wanted 1957 chevy unrestored wanted 1957 chevy original wanted
1957 Chevy Wanted 1957 Chevy for sale 1957 chevy survivor wanted 1957 chevrolet bel air wanted 1957 chevy unrestored wanted 1957 chevy original wanted
1957 Chevy Wanted 1957 Chevy for sale 1957 chevy survivor wanted 1957 chevrolet bel air wanted 1957 chevy unrestored wanted 1957 chevy original wanted
1957 Chevy Wanted 1957 Chevy for sale 1957 chevy survivor wanted 1957 chevrolet bel air wanted 1957 chevy unrestored wanted 1957 chevy original wanted
1957 Chevy Wanted 1957 Chevy for sale 1957 chevy survivor wanted 1957 chevrolet bel air wanted 1957 chevy unrestored wanted 1957 chevy original wanted
1957 Chevy Wanted 1957 Chevy for sale 1957 chevy survivor wanted 1957 chevrolet bel air wanted 1957 chevy unrestored wanted 1957 chevy original wanted