Danbury Mint / 1965 Corvette Stingray Roadster / DM Discontinued / 1:24th Scale
Milano Maroon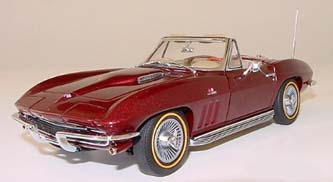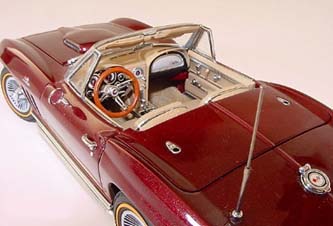 In the matter of a heretofore nonexistent 1:24th 1965 Corvette, DM comes to the rescue. This puppy is the Crème de le crème de le '65 diecast Corvettes. Up to the exacting standards of their '63 and '68 replicas, it epitomizes the shape and stance of the C2 Stingray perfectly. From every angle, it mimics the 1:1 without flaw. Milano Maroon is not closely related to red but it may be a kissing cousin. I think it is a great choice. Basically tooled from their '63 coupe model, the car shares some of its technical parts and amortizes the cost of the original model, assuring us new images for the future.
The antenna, hood prop and windshield wipers are among some of the items carried forward from the '63, as are the door hinges. Although the '68 has newer tech internal hinges, full utilization of the '63's tools precluded their use here. Painted body color, they are nearly unnoticeable. The '65 further builds upon the '63's attributes. For instance, the chassis is awash in new detailing. Wire emergency brake lines and photoetch couplings make the underside stand out. Seen lining the transmission tunnel is the correct heat shielding in a foil-appearing material. The Goldline® tires seem, to this writer, to be more properly scaled along with the Corvette emblems on the rear and sides of the car. The "Corvette" script on the rear deck is metallic and easily appears as chrome. Speaking of scaling, I do not believe I have seen better wiring and engine detail as on this model. The plug wires are not just minutely fabricated but also nestled into perfectly sized wire looms. The 396 Turbo-Jet big block has all the markings and stickers in the engine bay and in conjunction with the brake lines, heater hoses and fuel lines makes the viewing experience, with the hood up, very rewarding. The air vents on the hood bulge are see-through photoetch. Incredible.
The interior is alive in realistic detail. Genuine leather covers the seats. They fold forward. The top boot opens to show the 'down top'. The dash has fantastic detail. The gauges and even the radio scale can be read with use of a magnifying glass. The doorsills, in photoetch, and the flexible seat belt-ends, near the seat bottoms, add tremendous detail appeal. The visors fold up or down and the top lends still more realistic model craft. Internal latches affix to the windshield post, then small studs line up with the rear holes as in the 1:1. Even the rear top beading is a separately fashioned piece.
Yes, there have been a good number of Corvettes issued this year but keep in mind this is the 50th anniversary year for the marque. A must have? You betcha! Out of 5 stars I have to award this effort a 6! This is not part of the Classic Corvette Limited Edition Series.
Part #: DM1315M
Condition: Mint in the Box w/o papers
Price: 0.00
Status: SOLD! Thanks Mike