Danbury Mint / 1966 Corvette Penske Racer 1966 Sebring 12 Hours / Discontinued / 1:24th Scale
Blue & Yellow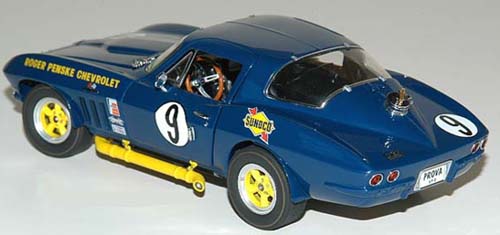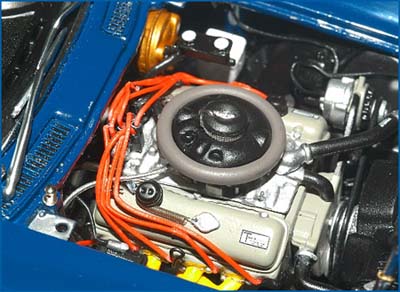 Roger Penske was no stranger to fast cars or Corvettes. Many claim that he came to prominence, even with his past racing successes, at the Bahamas Speed Week in 1964. Racing a Corvette Grand Sport, he won the Nassau Tourist trophy. Then he piloted a Jim Hall-owned Chaparral, relieving Hap Sharp, and won the Nassau Trophy. He beat such notables in that race as A.J. Foyt, Dan Gurney and Bruce McLaren! He was the hot commodity. In February of 1966, he took the Corvette coupe, modeled here by Danbury, to the Daytona Continental Endurance race and finished first in the "GT" class. The car was painted red at the time. Prior to the March '66 running of the 12 Hours of Sebring, Roger's main sponsor, Sunoco®, (Sun Oil Company®) asked him to paint the car in their corporate colors, blue and yellow. He did and he finished first in the GT class once again. This was one of the very first Corvettes to receive the legendary 427 cubic inch, all aluminum engine, coded L-88. In race prep, it pumped out 540 horsepower.
Just when you think that detail can't reach beyond the pinnacle of today's technology, someone rolls out a taller mountain and Danbury scales to its zenith. With model in hand, it will be hard to know where to start to look. Take a moment and explore every little nook and cranny of the diecast. You will find it exceptionally rewarding. If you can get past the beautifully applied dark blue paint, a foot deep and as smooth as glass, take in the chassis detail, interior nuances and the unbelievable engine bay. Stop for a breath after you investigate each of those areas and check out other subtle regions of the car's magnificence. Under the car DM worked their usual magic and then some. Don't expect much 'give' in the suspension, race cars have darn little, and so the working suspension was deactivated. You cannot help but notice the bright yellow long-tube headers flowing from the L88 big block. In fact, you will note the build marks on the fiberglass interior tub, passenger's side, that shows the car to be an L88 Corvette. Also stenciled on the car's frame, upside down since that is the way the frame was initially built on the assembly line, are serial number, date of build, 12-21-65, and shim marks that relate to the mating of body and chassis. In this case, three of them little fellows were necessary. From the back, braided fuel lines, with anodized fittings, are seen snaking their way from fuel cell and fuel pump forward. They are also used for oil cooling, up front. There's a starter cable and anti-sway bar seen up front but for the main course you'll need to turn the car right-side up and look at the engine bay. Before you do, now is that good time to take a breath and study the wheels and what is on them and behind them. The faint gold line tells you that this is racing rubber. The wheels are fabricated with yellow centers, chrome lug nuts, aluminum rims and there are even tiny air valves fashioned on them. Behind the wheels are large racing rotors that turn within the disk calipers. And don't miss the fender wheel extensions, front and rear. You may find yourself spending some time looking around in the interior too. Full roll cage, racing buckets with safety harnesses and great detail on all gauges. Ok, ready? Let's look at the hood before looking underneath.
This is one of DM's crowning achievements to date. The hood pins are real. They have tiny holes that hood pins pass through to hold the hood in place. They are on small chain tethers anchored to the base of the windshield frame. Both the windshield frame and the rear window frame are complete with safety fasteners by the way. Undoing the hood pins is easy, putting them back; not so much. A steady hand and/or soft-nosed tweezers are a good idea here. All right, enough stalling, we're going in. Once opened, you will discover that the rear entry hood air scope is functional. This was part of the cold air induction system that Penske used on the car. The hood mated to the soft air cleaner gasket surrounding it sealing off engine heat. This may very well be the best detailed engine you have ever seen in 1:24th scale. Rubber fan belts and plug wires and even braided fuel lines and metal throttle linkage with genuine return springs are just part of the story. The news here is almost too tiny to see. No, it's not the metal wire brake lines, not the battery cabling, not even the miniscule writing on the radiator hose. You were close if you said generator wiring. No, it is the infinitesimal safety wires on the bolts for the valve covers, cylinder heads and gear box. I cannot imagine attaching these in the assembly process, they are so small.
The overall attention to historic detail is awesome. The emblems and badges are incredible. The rear deck showcases a chrome-foiled metal, "Corvette Sting Ray" emblem and over the side air slits are photo-etched, "427 Turbo Jet" badges with crossed flags in red, black and white. Plexiglas headlight covers and fog lights are fabricated persuasively and all tampos are done to perfection. The fuel filler operates by moving the safety lever aside and flipping open the cap. This replica gives all new meaning to scaling new heights but if anyone can climb that mountain look for DM to do it. I rate this model as a 9.85 on the Thrillometer.
from the "James Dean" Danbury Mint Muscle Car Collection
This collection was purchased directly from Danbury Mint and placed in climate-controlled, spare room storage. Never removed from the original box, never displayed, dust-free.

The paint finish is like-new without any humidity-based paint rash.

All models include paperwork carefully filed in manila envelopes.

Mint condition original boxes, most without any writing or shelf wear.

Most models have door, hood & trunk protectors, interior foam blocks and protective tissue inside the styrofoam.

All photo-etched emblems are intact with protective acrylics.

We proudly present this exceptional muscle car collection to you, Satisfaction Guaranteed! We're confident that once you purchase one, you'll want to come back for more!
Part #: DM1382M
Condition: Mint in the Box w/ Papers
Price: 0.00
Status: SOLD! Thanks Paul!