Franklin Mint / 2002 Corp Military Humvee M966 / 1:24th Scale
Olive Drab & Camouflage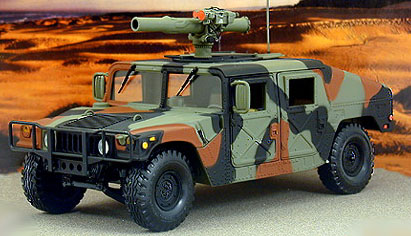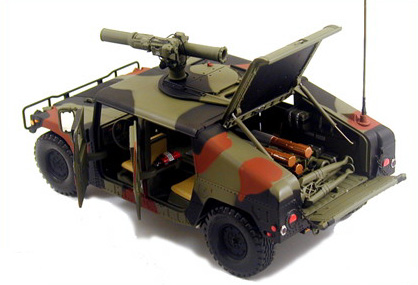 From Desert Storm to Operation Enduring Freedom, it's been the soldier's best friend -- as a troop carrier, ambulance or an assault vehicle capable of engaging the enemy on virtually any terrain. This sensational 1:24 die-cast model captures every extraordinary feature of the real Humvee -- from the fully detailed engine and realistic interior to the intricate undercarriage. The hood and all four doors open and close. There is operable steering, and both the front and rear suspension systems are fully functional. You can lift open the rear hatch lid, fold down the front bumper and tailgate. The armament ring rotates a full 360°. Hand-painted in authentic camouflage, and equipped with scale-size re-creations of machine guns and TOW missiles. Move up to the front lines of collecting!
Additional Details
The definitive die-cast re-creation of the High Mobility Multi-Purpose Wheeled Vehicle.

Fully authorized and authenticated by AM General Corporation, makers of the Humvee.

Hand-painted in authentic military camouflage.

Loaded with true-to-life working features.

Assembled by hand from more than 125 separate parts in 1:24 scale.

Engage your collection with the ultimate battlefield vehicle.
Part #: A870
Condition: Mint in the illustrated box w/ papers
Price: 0.00
Status: SOLD! Thanks Gary