Franklin Mint / 1932 Cadillac V-16 Sport Phaeton - Eliot Ness / 1:24th Scale
Black w/ tan top & red pin stripping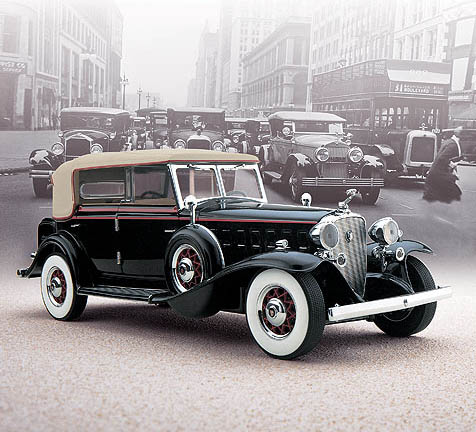 Approximately 7 1/4" (18.4 cm) in length. Scale 1:24.
Make the ultimate crimebuster #1 on your most wanted list. Ride with Eliot Ness and his Untouchables through the streets of Chicago in the Caddy™ that toppled the underworld! Every detail is captured in true-to-life accuracy -- from the vintage Cadillac hood ornament to the exposed door hinges and running boards. Working features include doors and hood that open and close, steering and road wheels that turn, and a fully functional suspension system. This 1:24 scale re-creation of Ness' awesome 16-cylinder Cadillac is built to perfection from more than 150 separate parts.

The V-16 Cadillac® was a stylish luxury car with a reputation as one of the best driving machines of its day. What's more, it was powerful, responsive and reliable. The massive V-16 engine featured in-line overhead valves and hydraulic valve silencers. The Cadillac® V-16 was a custom-built classic that offered the very best in comfort and security. Hydraulic shocks at all four corners helped produce a smooth ride. Its mechanical brakes stopped the car on a dime, using a complex system of rods, shafts, arms and cables. This solid Cadillac® used vacuum power to assist the brakes, move the fuel and run the windshield wipers.

Eliot Ness was a courageous man of strong ideals. He chose nine rough-and-ready agents to take on Al Capone and his criminal empire. They not only chose the right tools and firearms, but they also paid close attention to the type of vehicles they drove. They used a ten-ton flat-bed truck with a reinforced steel bumper to break down doors and haul equipment. Ness also selected a Cadillac® V-16 PhaetonTM to make his raids.

This automobile was the ultimate triumph of Cadillac's® famous V-type principle: the power is multiplied and subdivided into a continuous flow, constantly at full-volume efficiency, flexibility and— most important to Eliot Ness—provided instant responsiveness.

Ness and his team studied the Capone syndicate, and targeted the illegal stills and breweries that were operating throughout Chicago. They planned their raids carefully. Ness used this elegant and dependable car to hound Capone and impede his bootleg operations. In his first six months on the job, Ness closed down nearly 20 distilleries worth more than $1 million. Capone reacted by trying to bribe Ness and his agents, but each time the money was thrown back in his face. Newspapers published these stories and began referring to Ness and his team as "The Untouchables."

Similarly, the Cadillac® V-16 was "untouchable" in many ways. In fact, there was so much excitement about its debut that a crowd of over 20,000 elbowed each other just to catch a glimpse of the new "Supercar" at the New York Auto Show in January of 1930. Eliot Ness and his 1932 Cadillac® V-16 PhaetonTM — both legendary — and both classics!
Technical Specifications
Engine: 45 Degree OHV V-16
Displacement: 452 Cubic Inches
Horsepower: 185 HP @ 3400 RPM
Bore & Stroke: 3 x 4 Inches
Torque: 290 FT-LBS @ 4300
Compression: 5.35:1
Wheelbase: 148 Inches
Length: 222.5 Inches
Weight: 4685 LBS
Operating Features
Doors: As on the original Cadillac® V-16 PhaetonTM, the front and the rear doors are hinged back to back and may be opened.
Steering: The front wheels can be positioned for display.
Hood: Each side of the hood may be opened separately to an angle of about 90 degrees.
Spare Tires: The spare tires have been permanently mounted on your model.
Trunk: To store some of your accessories in the trunk, the lid may be lifted.
Accessories: Two 1:24-scale barrels of "hooch," a sledge hammer, two "choppers," a hat and a briefcase are included.
Part #: Al82
Condition: New in the box w/ papers
Price: 0.00
Status: SOLD! Thanks Tom