Franklin Mint / 1957 Corvette Fuelie Convertible - 283 Fuel Injected / Limited Edition 9,900 / 1:24th Scale
Pewter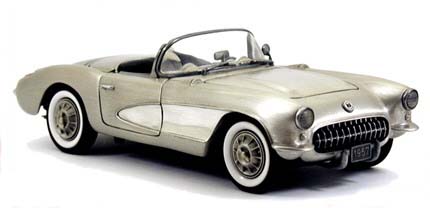 I see the same detail present in this car as I did in the 1:12th example that I reviewed in December of 2000. Debuting September of 2002, this smaller í57 Corvette was worth the wait. Heavier, by far, than our normal diecast cars, the model exhibits no toy-like qualities. It appears fresh off the museum shelf of some automobile gallery. The doors snap shut and display no gapping. The hood opens to show off the carís best feature, a fuel injected short block replete with standard diecast model plumbing and wiring. The air cleaner has uncommon detail for such a formal pewter-based model.
As with itís bigger brother, the replica has genuine leather seats, rubber tires and fantastic chassis detail. Due to its weight, the wheels do not steer and suspension is static. If you collect the mint Corvettes in 1:24th, you simply have to add this to your collection. But if you just desire a more Ďstand-outí version of Chevroletís icon í57, perhaps to display alone, this model will look beautiful posed on the black base included with the model. It has an affixed plate claiming your limited edition number. That number is also stamped on the chassis under the driverís door.
from "The Robert Heron" Franklin Mint Corvette Collection
The models in this collection were purchased directly from The Franklin Mint or from an independent retailer.

Mr. Heron, a long time D4C member, displayed his Corvettes in his own handmade custom built wood & glass display cabinets. From a dust/smoke/pet-FREE environment.

All models in this collection were inspected by Vinny to ensure PM Heritage Collection standards.

The glossy paint finish is dust and smoke free.

Models include some or all of the following: collector portfolio or COA, white gloves, modeling tool, and hangtag.

All photo-etched emblems and decals are intact.

Mint-good condition original boxes that show they were well cared for while in storage. Some independent retailers did not "double box" so there may be postage and a packing slip envelope attached to the box.

This first generation collection was enthusiastically maintained by a meticulous Diecast.org Club Member. This condition of the models, boxes, and literature all reflect his 20 year devotion to the hobby.

Satisfaction Guaranteed!
Part #: B880
Condition: Mint in the Box w/ Papers
Price: $79.00
SummerClearance: $59.00 (Save 30%!)
Status: In Stock