Franklin Mint / 1999 Corvette Coupe Police Car / FM Rally Ltd. Ed. 2,500 / FM DISCONTINUED / 1:24th Scale
Black & White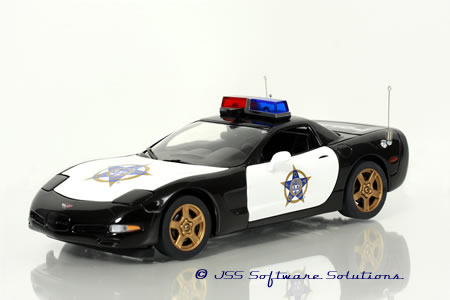 This is the third model in a lineup of Franklin Mint Police cars. The first issue was a small run of 1985 Lamborghinis in the now familiar black and white paint job with Fraternal Order of Police badging. This was released in October of 1991. In January of 2002, FM followed up with a 1988 Porsche Carrera Targa in the same police livery. This time, perhaps because this is the year of Corvette's 50th anniversary, (issue date 11/2003) Franklin presses the venerable Corvette into law enforcement duty in the way of a hard top, no frills, 1999 model year version.
The paint scheme is the same as the other two cars with gold wheels and handcuffs at the ready on the console but it also has the word, "POLICE" emblazoned across the rear deck in nicely tampo'ed style. Twin spring-based antennas bring up the rear. The roof has the usual suspects, blue an red light bar, siren and roof-mounted antenna. The C5 model is standard Franklin issue, that is, nice detail and working features. A nicely done overall diecast and a 'must have' if you are a collector of police cars or Corvettes. 4 stars.
Part #: C401
Condition:
Price: $0.00
Status: SOLD! Thanks David!