Franklin Mint / 1969 Chevrolet COPO Camaro ZL1 / Ltd. Ed. 5,000 / 1:24th Scale
Garnet Red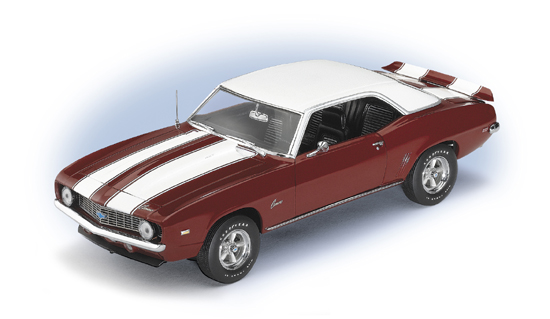 This is the 1969 Chevrolet COPO Camaro ZL1 in garnet Red. It's limited to 5,000 models. In Garnet Red, a deep, almost maroon shade, FM opted to give the already rare car a color to enhance its bad dog attitude. The clean white twin-center stripes are gorgeous and flanked by thin pinstripes. The white vinyl roof simulation is spectacular – this, coming from a guy who mostly hates vinyl roofing on coupes. Here though, it works to add the right sparkle to the dark crimson body. And off-shoot of FM's popular Camaro tooling, you have a lot to like in this one as well. The interior is resplendent in black; lots of detail on dash, gauges, console and seating areas. The trunk is sparsely appointed, just like the real COPO. The emblems and insignias are metal foiled and look awesome. Period mags, used on these COPO and Yenko cars really make a visual statement and the FM model is no exception. The killer engine is the center of attention and well worth the under-hood look. The simulated cowl induction features a realistic hood and the engine exhibits all the right wiring and instructional labeling seen on the 1:1. The suspension is functional and the wheels rotate the driveshaft with each revolution. Wipers are delicately fashioned and the overall look of the model has good proportion. The ride height is somewhat tall but in real life the cars, when new, were sort of up on their tippy toes, not squat like the renditions of today.
from the "Garden State Chevrolet" Franklin Mint Collection
The models in this collection are in mint condition. They were purchased directly from Franklin Mint, and then placed into airtight enclosed display units.

Adult owned from a pet-free & smoke-free household.

Since the models were properly displayed, the paint is glossy and virtually rash-free.

Most models include original paperwork, but for this collection, paperwork is not guaranteed. If we have it in our library, we will include it.

The overall condition of the boxes is good to excellent condition.

A comprehensive Franklin Mint Chevrolet collection of this magnitude and condition is very hard to find. Satisfaction Guaranteed!
Part #: E267
Condition: Mint in the Box
Price: $175.00
Status: In Stock