Franklin Mint / 1960 Corvette Convertible / 50th Anniversary Limited Edition / 1:24th Scale
White w/ Red Coves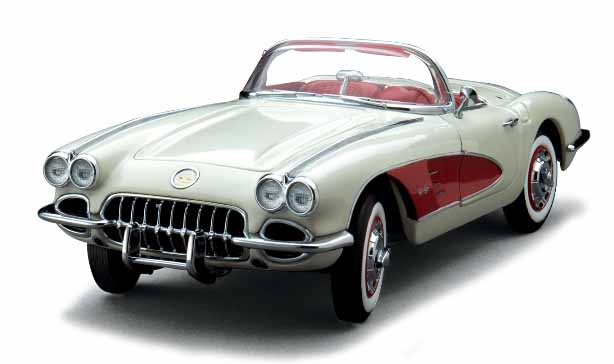 The previous decade—the fabulous Fifties—saw the introduction of the Chevrolet® Corvette®, America's first sports car, and the years witnessed continual refinement of this classic model. By the end of the decade, it was boasting one horsepower per one cubic inch. Yet as the new decade dawned, the Chevrolet® Corvette® set out to redefine American motoring while retaining the unique design and engineering that had come to define the 'Vette®.

The 1960 Corvette®, therefore, was the benchmark between the original classic of the '50s and the automobiles that were yet to come. It was a two-door convertible—there was no coupe offered that year—and it was the last Corvette® with the heavy "teeth" in its grille. It was also the last year to feature taillights formed into the rounded rear fenders. While the 1960 Corvette® retained smooth, stylish lines of the previous year, several subtle changes were added to the overall vehicle. A new dramatic gauge cluster was grouped on the dashboard, and some models appeared with aluminum radiators.

Underneath the hood, the standard 283 cid V-8 engine could be upgraded to a variety of performance levels that ranged from 230 to 290 horsepower. Coupled with a choice of either dual four-barreled carburetors or fuel injection, the powerplant of this 'Vette® provided a broad-enough spectrum to satisfy the needs and desires of the widest range of drivers.

Available in eight colors—and with the option of two-tone finishes—the Corvette® was uniquely beautiful,a true sports car in every sense and a brilliant prelude to the future.

Now, 50 years since its debut, Franklin Mint Precision Models re-creates the Corvette® that inaugurated the "swinging '60s" in an incomparable die-cast replica—the 1960 Corvette®. Masterfully crafted and accurately detailed, this precision die-cast replica captures all the excitement of the automobile that bridged the original 1950s 'Vette® styling to the classic 1960s models. From the Ermine White finish with red side panels to the 283 cid engine under the hood, your 1960 Corvette® is a classic that will be treasured for years to come.

Limited Edition of 1,500 worldwide.
Part #: G396
Condition:
Price: $0.00
Status: Out of Stock