Franklin Mint / 1886 Benz Patent Motorwagen / 1:8th Scale
Green & Tan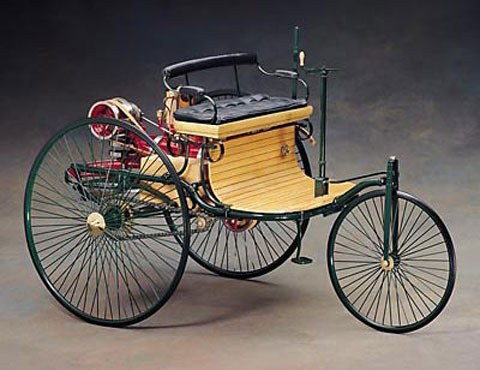 Own the Worldís First Automobile. This is the car that started it all! Designed by Karl Benz, it was the first motor vehicle ever successfully powered by internal combustion. The car that began the legend of Mercedes-Benz. And now you can own the first 1:8 scale precision die-cast model of The World's First Automobile.

Handcrafted from over 100 parts, and authenticated by the Mercedes-Benz Museum, this richly detailed model features critical mechanical components that actually function. The flywheel, piston, drive belt, pulley and hand brake move. The wheels and crankshaft turn. The ignition contacts open and close.

There's rack-and-pinion steering and a huge gyroscopic flywheel. The expansion tank is copper-tinted and coated in gold. The carburetor, fuel tank and fittings are also coated with gold. Specially imported.

In July 3rd, 1886 an event occurred that certainly had an enormous impact on the history of man. For it was on that date that the first useable car in the world - Karl Benzís Patent Motorcar - was given its first public outing. No one could really know at the time that the simple carriage, achieving speeds of 12 kph, was a beginning of a new era in human history - the automobile age.

Benzís first car had a four-stroke single-cylinder engine which displaced 990ccs. The engine was mounted horizontally on the vehicle which in many ways was a unique blend of a horse carriage and a three-wheeled bicycle. Producing 0.9 horsepower, the engine drove wire spoked wheels through Benz's innovative array of differential gears, belts and chains.

Benzís automobile included innovations that are still used today on over 400 million automobiles. It had electric igni≠tion, a water-cooled engine and a quite modern differential gear. The custom-made body included a two passenger seat and rack-and pinion steering operated by a "tiller." The automobile had no foot brakes and was stopped by a handbrake applied to the drive mechanism. With an advanced differential drive train, no reverse gear, and a belt clutch, the vehicle was able to reach a maximum speed of 16 to 18 kph.

When Benzís "horseless carriage" appeared at the World's Columbian Exposition in Chicago in 1893, it ignited the imagination of the public, and triggered the beginning of the automobile industry. The Benz Patent Motorcar was more than just another invention in the pantheon of man's technology. It was the one invention that opened up the world - that brought everyone and everything just a little bit closer.
Part #: SD65
Condition:
Price: $0.00
Status: Out of Stock