Franklin Mint / 2000 BMW Z8 w/ Aluminum Body / 1:24th Scale
Red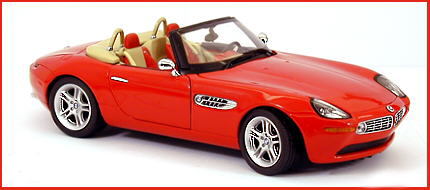 With the Z8, BMW pays homage to the BMW 507. Styling cues from that 50's sports car can be readily seen throughout the Z8's design. But the 507 never enjoyed 394-horse power, a 6-speed transmission or all of the amenities of the elegant interior. In keeping with recent tradition, Franklin Mint has added yet another model replicated from the same basic manufacturing elements as the modeled 1:1 car. Franklin Mint Precision Models is just that, precise. They have embodied materials beyond that of just diecast metal. In the case of the Z8, it is aluminum.
The model comes packaged, as is now the norm, in a large, well-protected Styrofoam capsule. Magnetic-plastic shields the doors, hood and trunk from vibrational movements and scuffing. That is most welcome, especially on this model, because the paint is so exemplary. Besides the flawless finish, the fit is perfect on the opening parts, the doors, hood and trunk. Thankfully, the FM tool is provided to aid in the operation. Under the trunk lid is a removable panel displaying the remote battery and tool kit. The hood lifts to show off the brawny 302 cubic inch aluminum V-8. Both the trunk and hood have imbedded BMW symbols. The graphics are delicately replicated all over the car and wheels showing up, in some cases, only with the use of a magnifying glass. The interior is beautiful in red and beige and the seat belts are leather. The fit of the up-roof, wonderfully textured, and the down-boot, is beyond precise. They fit so snug and tight. The suspension is operational and yet the model's stance is accurate..
from the "Williams Estate" Franklin Mint Collection
The majority of this FM collection was purchased directly from Franklin Mint and either placed in spare room storage or enclosed display cases.

The paint finish is excellent without any dust.

Some of the models include paperwork. See the description below.

The overall condition of the boxes is excellent with marker I.D. on end flap.

Priced to sell, satisfaction guaranteed!
Part #: ZK57
Condition:
Price: $0.00
Status: SOLD! Thanks Henry!