Franklin Mint / 1957 Chevy Bel Air Convertible / Limited Edition 1,000 / 1:24th Scale
Tropical Turquoise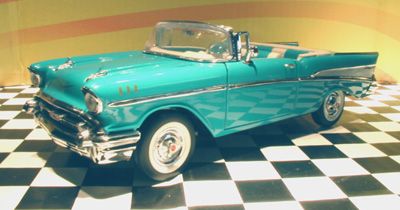 This latest FM repaint was promoted as "Larkspur Blue", a very pale, powder blue and in the pre-release photos it looked close to that color so we went with it. However, our shipment arrived this week and in real life it is actually closer to "Tropical Turquoise". Although real '57 Chevy restorers have already pointed out that the color isn't
right for Turq either, but it's closer than blue. Since the interior is so far off from being correct for the blue edition but is close enough to the Turq version( if you can ignore the white dash..please!), I don't see how anyone can call this Larkspur Blue so we're renaming it Trop Turq. GM Licensing really needs to take a look at what FM has been doing lately. These inaccurate replicas devalue the real classic cars and GM-Chevrolet heritage.
from the "Darby Estate" Franklin Mint Collection
The majority of this Darby, Pa. collection was purchased directly from Franklin Mint and placed in climate-controlled, spare room storage. Most models were never removed from the original box, never displayed, dust-free.

The paint finish is mint without any humidity-based paint rash.

Some of the models include paperwork. See the description below.

Good condition original boxes, slightly brown from storage.

Most models have their original packing material.

Satisfaction Guaranteed!
Part #: C407
Condition: Mint in the Box w/ Papers
Price: $225.00
ClearancePrice: $179.00
Status: In Stock