Franklin Mint / 1957 Corvette Convertible Fiberglass Version / D4C LECC-IV Limited Edition 999 / 1:24th Scale
Inca Silver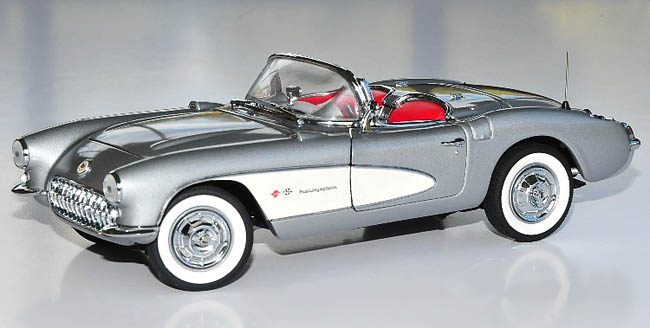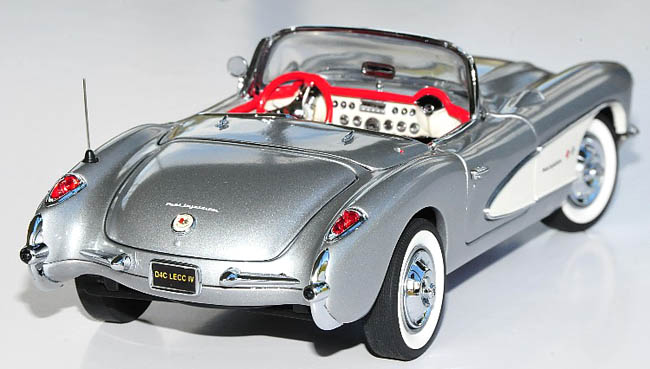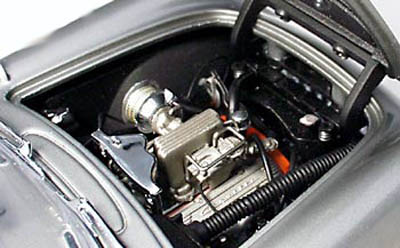 For the fourth time, Franklin Mint has fabricated a special car for the DieCast Car Collectors Club (D4C). This one is based on their Venetian Red Fiberglass version. After some research, it was realized that Inca Silver was by far, at only 65 units made that year, the rarest '57 Corvette. Rarer still, is the car equipped with Ivory coves. It was reasoned to the group that it would be a dynamite follow up to the Aztec Gold '98 Corvette, LECC I. From there Raffi took over and tweaked the color breaks, addressed some build issues and the model came together very well.
Among the changes Raffi spearheaded were as follows: The front license plate bumper frame mount was revised to enable the addition or deletion of a front plate. The rear plate, fixed, is club-specific and reads, "D4C LECC IV". Both front inner fenders have had their tooling revised. The interior seat texture was changed to a more satin finish with the model tool changed to red and finally, the inner trunk plate was added, "D4C LECC IV Limited Edition One of 999".
from the "Palm Beach" Franklin Mint Collection
The near-mint models in this collection were displayed in a glass cabinet and are in Tier 2 condition without paint damage, Satisfaction Guaranteed!

This collection required Vinny & Nicole to perform light detailing to bring the models to near-mint condition.

Most models will not include paperwork.

The original boxes are in fair to good condition with storage wear and pen writing.

This collection was acquired from a long time D4C Club member.

The models in the "Palm Beach" Collection that were improperly stored and developed paint rash will be listed on Vinny's Used Cars.
Part #: C481
Condition: Mint in the Box with papers
Price: $195.00
ClearancePrice: $156.00 (Save 20%)
Status: In Stock