Franklin Mint / 1949 Buick Roadmaster Convertible / Limited Edition 2,000 / 1:24th Scale
Royal Maroon Metallic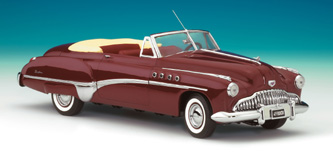 Big, bold, full of muscular grace, it's the most famous Buick ever! The definitive model of the Buick built for success – from the distinctive portholes inspired by fighter planes of WWII to the "Dyna Flow" drive emblem on the trunk, to the "Dollar Grin" grille - it's as awesome as the original.
Model and certificate of authenticity hand-numbered.
Hand painted in lustrous Royal Maroon Metallic.
Approximately 9 ¼" (21cm) in length. 1:24 Scale.
Limited edition of 2,000 pcs.
Part #: D153
Condition: Mint in the box w/ papers. Serial #1949/2,000
Price: 0.00
Status: SOLD! Thanks Daniel