Franklin Mint / 1967 "Ultra" Corvette Roadster / Limited Edition 427 / 1:12th Scale
Black w/ white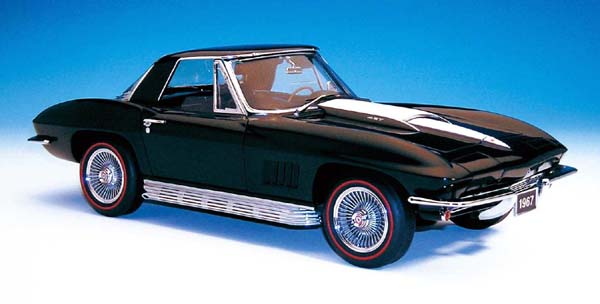 Corvette diecast...... king size. Precision details that only 1/12th scale can bring out. This is the ultimate diecast for the Corvette collector.Beautiful paint, tight door and body panel gaps. Removable top. Everything works in the interior. Ash tray, glove box, shifter, hand brake, windows roll up. Engine compartment nicely done, wiring, clutch fan removable air cleaner. Knock-off wheels are removable, working driveshaft and suspension, metal shift mechanism. Working features: tail/brake lights, headlight hi/low beams, reverse light with shifter, ignition, and the horn sounds.
The ultimate precision model of the ultimate big-block Corvette! A spectacular ultra-scale replica with working horn and lights, the sound of the powerful L88 engine, real fiberglass body, real leather seats and fully functional suspension. Constructed with fiberglass panels and finished in lustrous black – each and every car is hand-polished to a showroom luster. Every detail of the 427 cubic inch engine is re-created in exacting detail. Complete with custom-designed polished wood display base with limited edition nameplate.

Model and certificate of authenticity hand-numbered.

Exterior Black with white racing stripe.

Approximately 16 ¼" in length. 1:12 Scale.

Strict limited edition of 427 pieces!
Part #: D749
Condition: New in the box, Serial #125/427. Batteries never installed, working features not tested.
Includes 14 page copy of the Collectors Guide Care & Handling Instructions
Price: 0.00
Status: SOLD! Thanks John