Franklin Mint / 1972 Corvette LT-1 / Limited Edition 5,000 / 1:24th Scale
Targa Blue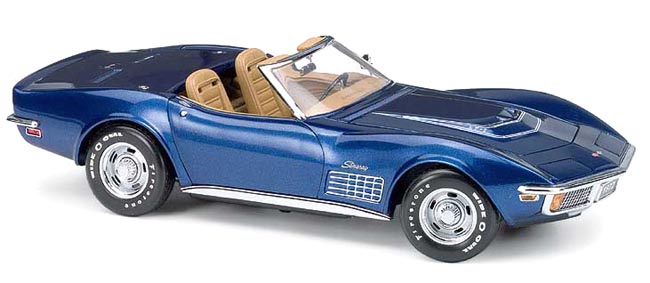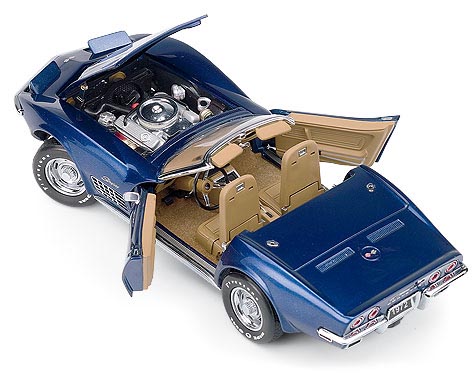 A Must-Have for Serious Collectors!

For the knowledgeable Corvette® enthusiast, this model falls into the Must Have category. Model year '72 marked the end of an era for the ultimate American sports car, as those distinctive front and rear chrome bumpers made their last appearance. The age of mirror-polished, bright metal bracelets which had been the finishing touch of this elegant and aggressive Muscle Car since its birth in 1953 would disappear from all factory Corvette® autos built to date. The Corvette® chrome bling would be replaced with a body color bumper in the front in 1973 and both front and rear by 1974. The 1972 Corvette® was also the last year for the removable rear window on the coupe and the legendary LT-1 solid-lifter, high-compression engine option, making it a must-have Corvette® for any serious car collector. The LT-1 engine designation would reappear again 1992 as a new and improved base 350 engine, much different from this '70s powerhouse. Although the horsepower rating for the 1972 LT-1 would experience a dramatic decrease from 330 hp in '71 to 255 hp in '72, she maintained her sleek profile and elegant styling, even adding for the first time on the LT-1 engine...air conditioning! The number of 1972 LT-1-air cars built is believed to be only 240.

This superb precision model sports a fully appointed interior and the definitive re-creation of the V-8 OHV RPO LT-1 engine under the hood. Working features include operable steering, spinning road wheels and functional suspension. Hard-top and soft-top included.
Limited Edition of 5,000

Technical Specifications
Engine: V-8, Overhead Valve, RPO LT-1
Horsepower: 255 @ 5600 RPM
Displacement: 350 Cubic Inches (4344 CC)
Torque: 280 Pounds per Foot @ 4000
Bore & Stroke: 4.00 X 3.48 Inches
Compression Ratio: 9.0:1
Induction System: Holley Four-BBL Carburetor

Operating Features
Steering: The front wheels can be positioned for display.
Hood: Hinged at the front end, the hood opens to a 75-degree angle.
Doors: Hinged at the front, the doors open to approximately a 45-degree angle.
Seats: Your precision model's seat backs are hinged so that they can be angled forward.
Headlights: The headlights can be displayed in either the open or closed position.
from the "Garden State Chevrolet" Franklin Mint Collection
The models in this collection are in mint condition. They were purchased directly from Franklin Mint, and then placed into airtight enclosed display units.

Adult owned from a pet-free & smoke-free household.

Since the models were properly displayed, the paint is glossy and virtually rash-free.

Most models include original paperwork, but for this collection, paperwork is not guaranteed. If we have it in our library, we will include it.

The overall condition of the boxes is good to excellent condition.

A comprehensive Franklin Mint Chevrolet collection of this magnitude and condition is very hard to find. Satisfaction Guaranteed!
Part #: F056
Condition: Mint in the Box
Price: $0.00
Status: SOLD! Thanks Daniil!