Franklin Mint / 1959 Corvette Convertible / FM Discontinued / 1:24th Scale
Roman Red & Snowcrest White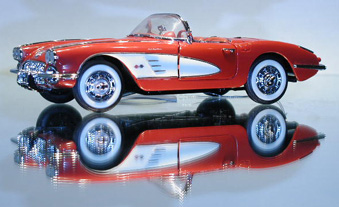 By 1959, the C-1 Corvette was neither new nor unexpected, as was the case for the 1953 model. What it was, was refined. Though the wheelbase at 102" and the track at 57" front / 58.8" rear were unchanged since 1953, the car was more modern and civilized. The engine since 1957 was the venerable 283 cubic inch V-8. But by 1959 it came in four variations. With dual four barrels, the H.P rating was 245 and 270. The latter so equipped car was the most popular, selling 1846 units. There were also two fuel injection variants of 250 and 290 H.P. The only changes to the outside were made to refine the styling somewhat. The twin chrome spears on the trunk and the simulated louvers on the hood were replaced with smooth, flowing panels. A new tach face was in place and the dash instrumentation was redesigned.
Perhaps somewhat overlooked is this FM '59 beauty. I can only guess it is because of the color - red. Too many red cars? Only you can decide that. The fuelly engine, also used in the '57 and '58 models, has more detail in this car. The '57 and '58 were products of 3/93 and 5/93 technology. The '59, issued in 3/95, sports fuel lines, making quite a difference. Even the repainted '58 in the Garage diorama, is of the older persuasion. This car has full chrome wheel covers on white-walled tires. The Snowcrest White coves against the Roman Red body are eye catching if you haven't yet tired of red. The overall effect is quite nice.
from "Barry's Empire State" Franklin Mint Collection
This collection was purchased directly from The Franklin Mint, opened for inspection but never removed from their boxes. Most original tissue and packing materials are intact. The models were then stored in his climate-controlled spare room.

Tier 1 condition - New Old Stock (NOS Mint in the Box)

Like-new paint as delivered from Franklin Mint.

Includes Certificate of Authenticity, blue sheet or how-to-care instructions.

Good condition original boxes with some writing on the end flaps.

This is a well cared for Franklin Mint collection. Satisfaction Guaranteed!
Part #: UW49
Condition: Like-New Storage Find / Mint in the Box w/ Papers
Price: $59.00
Status: In Stock