Franklin Mint / 1969 Corvette 427 Sting Ray Coupe / FM DISCONTINUED / 1:24th Scale
Monaco Orange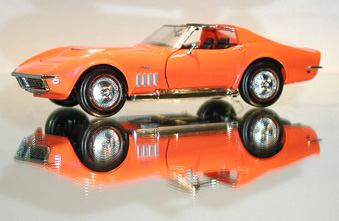 Issued in June 1995, this Monaco Orange big block added color and pizzazz to the FM Corvette line-up. It boasts a magnificent engine bay. The gray wiring and accurately color-coded engine components are expertly done. To me, the Corvette form from 1968 to 1972, with high arching fenders and full metal front and rear bumpers, exuded a look of strength, power and potency. Less sophisticated than today's C5, FM captures that nuance wonderfully in this model. The paint is applied smoothly and evenly rich. The decals are sharp and the hood and doors line up the way they should. In fact, the T tops fit precisely, if not securely in place. The side exhaust pipes are well detailed and the door locks are remarkably realistic. If you must have every one of the Corvette series cars or need a good example of the "C3" collection, you can't go far off with this choice.
from the "Kansas City Gallery Store" Franklin Mint Collection
Franklin Mint Retailer, eBay Seller, & Corvette Collector
This original-owner collection was purchased directly from The Franklin Mint and various gallery stores, then placed in his climate-controlled Corvette garage. Most were never opened and still retain their factory shrink wrap and tape!

Tier 1 condition - New Old Stock (NOS Mint in the Box)

Like-new, rash-free paint.

Includes Certificate of Authenticity or Collector's Portfolio, gloves, modeling tool, hangtag (if applies i.e. older releases do not include gloves or tool)

Excellent-good condition original boxes, some without postage or writing.

All models will be opened and carefully inspected by Vinny before shipment.
Part #: VB57
Condition: Mint in the wrong box (RH87) w/ Papers
Price: $59.00
Status: In Stock