Franklin Mint / 1954 Corvette Roadster / FM DISCONTINUED / 1:24th Scale
Sportsman Red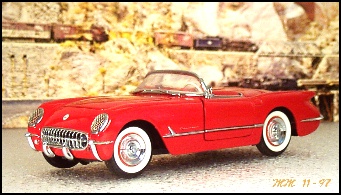 The first three years of this American icon make a great collection in itself. The three models are almost identical except that each model year is a different color. This is in keeping with those offered by Chevrolet at those times. The 1953 was white only and the model is perfectly accurate in Polo white with red interior. The 1954 is red with red interior and the 1955 is blue with tan interior. These were unsophisticated automobiles and the models represent this well.
There is good detail in all areas of the model but wiring is lacking in the engine compartments and dash dials, but the wire mesh headlight screens help make up for this trivial omission. Doors open along with hood and trunk with steerable wheels.
from "Barry's Empire State" Franklin Mint Collection
This collection was purchased directly from The Franklin Mint, opened for inspection but never removed from their boxes. Most original tissue and packing materials are intact. The models were then stored in his climate-controlled spare room.

Tier 1 condition - New Old Stock (NOS Mint in the Box)

Like-new paint as delivered from Franklin Mint.

Includes Certificate of Authenticity, blue sheet or how-to-care instructions.

Good condition original boxes with some writing on the end flaps.

This is a well cared for Franklin Mint collection. Satisfaction Guaranteed!
Part #: WN71
Condition:
Price: $0.00
Status: SOLD! Thanks Ivor!