Franklin Mint / 1932 Chevrolet Deluxe Sports Roadster Confederate / FM DISCONTINUED / 1:24th Scale
Yellow & Black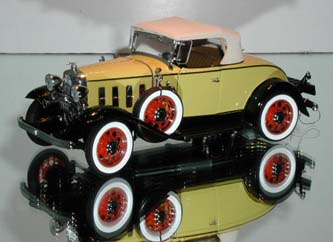 Photo-etched mesh grille, with a sterling silver hood ornament to the folding trunk rack, flanked by taillights on long stalks, excellent detail. Behind the 8 functional chrome hood vents is an detailed and plumbed engine bay with hoses, fuel lines, spark plug wiring in the proper firing order (with visible plugs) etc. Chassis detail is all there including the braking cables. A word about the wheels: The delicate red spokes with the chrome beauty ring, and small hubcap (w/ bow-tie) are surrounded by whitewall tires that feature a raised outer edge that was so common on cars of this era.
Brown "leather" covers the seats and interior panels, the bow-tie pattern is in the hard rubber floor mats. A photo-etched key and fob is inserted in the handsome dashboard. Then there's the side-mounted mirrors, hold-down clamps, cowl lights, operating cowl vent, wind wings, etc. Accessories include top up or down options, various picnic items, side curtains and a trunk.
As you'd expect from a precision diecast, doors open, hood opens, wheels steer. One of the best Chevy diecast made!
Part #: YF76
Condition:
Price: $0.00
Status: SOLD! Thanks Roger!