Franklin Mint / Corvette Set w/ Display: '97 Coupe, '98 Convert, '99 Hardtop / Limited Edition 7,500 / 1:24th Scale
1997 Coupe-Blue - 1998 Cvt Red - 1999 Coupe White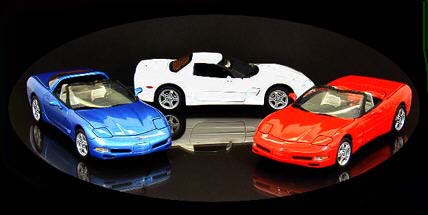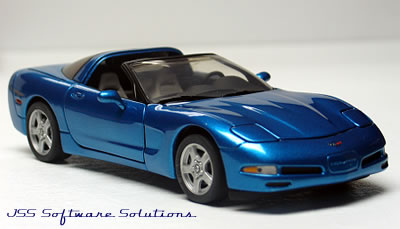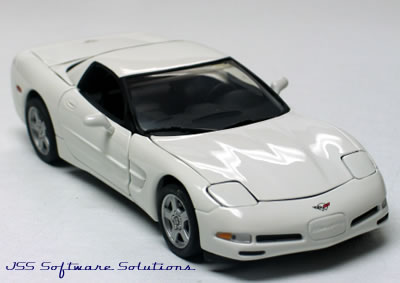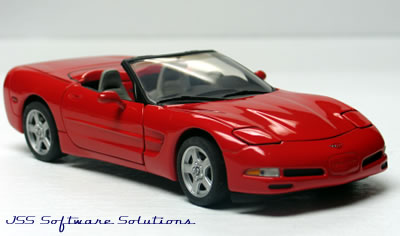 All three cars feature opening headlamps, fully functioning suspension, detailed engine bays and interiors. Each is affixed with a Limited Edition plate in the interior rear claiming their status as xxxx/7500. The year model is so stated too. As with the newer versions of the C5 diecasts, all feature the rear axle half-shafts and a CD disk may be seen emerging from the dashboard. You may elect to perch the Collection on the display base that comes with the trio. Three mirrored bases set in black-finished wood, it resembles the profile of the C5 hood. Backed by the Corvette insignia of crossed flags, it makes a remarkable presentation. Together on this podium, in patriotic red, white and blue they form the All American Corvette Collection. It makes a most striking and very handsome display.
from the "Kansas City Gallery Store" Franklin Mint Collection
Franklin Mint Retailer, eBay Seller, & Corvette Collector
This original-owner collection was purchased directly from The Franklin Mint and various gallery stores, then placed in his climate-controlled Corvette garage. Most were never opened and still retain their factory shrink wrap and tape!

Tier 1 condition - New Old Stock (NOS Mint in the Box)

Like-new, rash-free paint.

Includes Certificate of Authenticity or Collector's Portfolio, gloves, modeling tool, hangtag (if applies i.e. older releases do not include gloves or tool)

Excellent-good condition original boxes, some without postage or writing.

All models will be opened and carefully inspected by Vinny before shipment.
Part #: ZG81
Condition: Mint-Like New in the Box w/ Papers
Price: $175.00
Status: In Stock