Franklin Mint / 1969 Chevrolet Camaro SS396 Convertible / FM DISCONTINUED / 1:24th Scale
Yellow w/ Black interior & top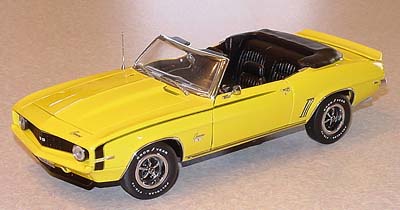 Originally designed to be the first offering in a 6 car series, this Camaro convertible was to introduce TFM's "Muscle Car Legends". Until now, the only available 1969 Camaro from TFM was the original hardtop coupe in burnt orange issued in December of 1997 and its beautiful, now discontinued limited edition counterpart in black issued in May of 2000. Both were Z/28 renditions.
The 302 cubic inch mill is replaced with a big block and the model beautifully replicates the SS 396. This drop top is drop dead gorgeous in Daytona Yellow. The traditional 'hockey stick' is black, outlined with a miniscule black pinstripe. The tampo prints of 'Camaro', '396' and 'SS' further accent the color combination brilliantly. Even the Super Sport wheels boast the 'SS' logo. The black interior is awash in detail. From the console and dash gauges and authentically crafted steering wheel to the genuine leather seat belts to the ignition key and fob, there is plenty to please the discerning eye. The suspension is operational and the drive shaft turns with the rear wheels. The wipers are finely detailed and the trunk is SS 396-accurate, including the spare tire cover.
The yellow muscle car's best asset, however, is up front. The engine bay carries the master modeler's touch with replicated features such as heater hoses, battery cables, plug wires, vacuum and brake cylinder lines and smog hoses. Black 'down top' boot and 'up top' are supplied. The fit and finish is excellent on my model and the stance is perfect. FM has a true winner in this car!
Part #: ZJ40
Condition:
Price: $0.00
Status: SOLD! Thanks Ron!