Franklin Mint / 1955 Cadillac Elvis Fleetwood 4 Door / 1:24th Scale
Pink w/ White Top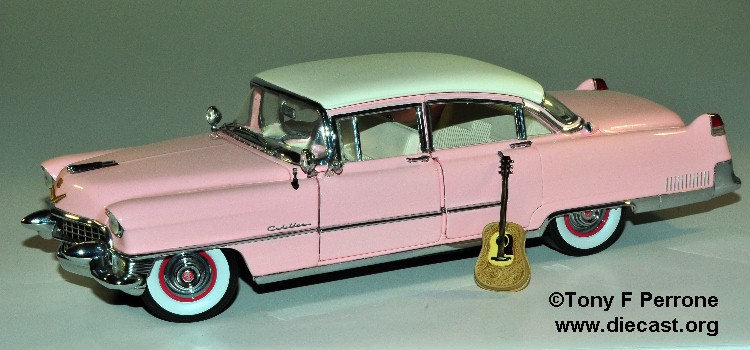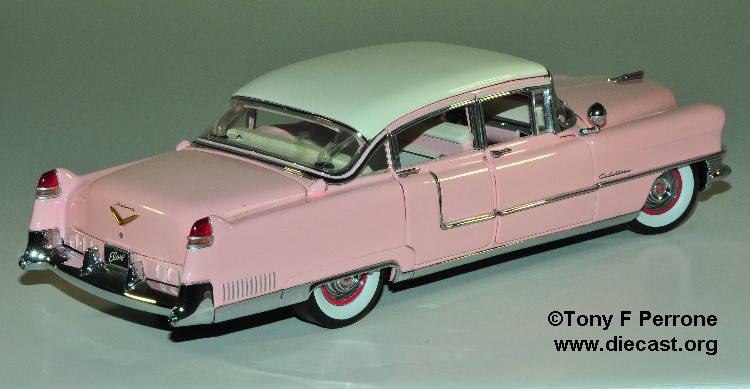 Elvis dearly loved his mama. Elvis dearly loved Cadillac's. In July of 1955, he bought the car we see depicted here. It was blue. After a minor accident in September, he had the car repainted in pink and gave it to his mother, Gladys Presley. She had no driver's license. Presumably, his dad, Vernon, did their actual driving. The car was never sold or given away as it served as a reminder of his beloved mother. It resides, today, at his Graceland Estate in Memphis, TN.
Franklin Mint refers to this diecast as the first precision model of this car. At 227 inches in length, a wheelbase of 133 inches and weighing in at 4545 pounds in 1:1 scale, the replica translates into an imposing 1:24th scale model that will have you, "All Shook Up". Fit and finish: In a word, unbelievable. Hood, doors and trunk not only fit precisely, but the trim all lines up in absolute perfection. The front doors do have the cursed dogleg hinge but the rears have concealed hinges. The suspension is masterful. The front 'A' frame suspension components move with the wheel travel as on a 1:1 and not merely on separate model springs. The articulation of the rear system is firm and realistic. The driveshaft turns with the wheels. Interior: Perfectly scaled door handles, wind wing cranks and roof light. Also featured, operating glove box door, "E P" with musical note on the carpet. A fully appointed trunk and a breathtaking engine bay complete with all the trimmings, round out a beautiful model. Order this diecast and I'll bet you don't "Return to Sender".
Part #: ZK59
Condition: New in the box w/ papers
Price: 0.00
Status: SOLD!