Franklin Mint / 1935 Mercedes 770K Sedan / FM DISCONTINUED / 1:24th Scale
Red & Black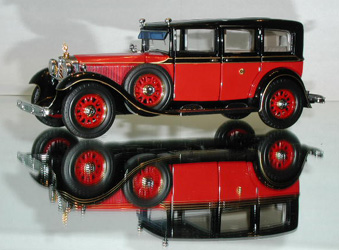 One of the most magnifificent touring cars of all time was the Mercedes-Benz (Daimler-Benz) Grosser Type 770. Designed in Stuttgart, Daimler-Benz built these powerful touring cars for heads of state, (including ex-Kaiser Wilhelm II and Emperor Hirohito) dignitaries and businessmen in limited numbers. They were very select in whom they sold these cars to. Only 117 of these cars were built.
Franklin Mint went all out to reproduce this beauty which featured a straight-eight, overhead-valve 467.0 cu.in. (7655cc) with a cast iron block. It had a six speed Maybach gearbox surrounded by a solid box-section chassis frame, with beam axle and half-elliptic spring suspension in front and rear. Weighing in at close to 6000 Lbs (the 1.1 not the 1:24), the 770 was equipped with power assisted brakes. Almost all 770s were fitted with clutch operated superchargers that could be turned on or off at the driver's will.
This model is beautiful. The two-tone black and red color selection, with gold pin-stripes, really grabs your attention. The replica comes with the official Hirohito Seal emblems in gold and features a blue (see-through) sun-visor. Get this one while you can, it's been discontinued a while and will probably never be offered by FM again.
Part #: SD61
Condition: Mint in the box, no papers
Price: 0.00
Status: SOLD! Thanks Ed