Franklin Mint / 1924 Hispano S Type H6C Speedster / FM Discontinued / 1:24th Scale
Tulipwood & Copper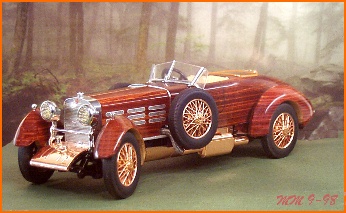 from "Mike's Factory Fresh" Franklin Mint Collection
This collection was purchased directly from The Franklin Mint, opened for inspection but never removed from their boxes. All original tissue and packing materials are intact. The models were then stored in his climate-controlled spare room.

Mike is the owner of a well known restoration supply company for classic cars and a racer/restorer of classic Camaros and Corvettes. A meticulous executive!

Tier 1 condition - New Old Stock (NOS Mint in the Box)

Like-new, rash-free paint.

Includes Certificate of Authenticity, blue sheet or how-to-care instructions.

Excellent-good condition original boxes, most without postage.

This is the best condition Franklin Mint collection we've acquired in 2018!
Part #: SD63
Condition: Like-New Storage Find / Mint in the Box w/ Papers
Price: 0.00
Status: SOLD! Thanks Bill!