Franklin Mint / 1957 Corvette 283 cu in Fuel Injected Engine / 1:6th Scale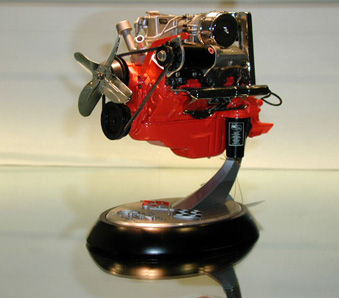 The Franklin Mint Corvette engine model is a 1/6 scale replica of the 283 HP Fuel Injected engine used in the 1957 Corvettes and full size Chevrolets. A display stand base is permanently mounted to the bell housing at the rear of the engine model. The model is highly detailed and includes all engine parts, accessories and piping. The engine is painted in "Chevrolet Orange". Some parts are finished with silver paint, gray paint, black paint or chrome plated to simulate the original finish. A special feature is a cutaway section at the right front corner of the engine. This cutaway section exposes a functional model the cylinders, pistons, connecting rods and valve train. The crankshaft can be manually rotated by turning the flywheel from a slot in the bottom of the bell housing. All internal components function when the crankshaft is rotated, including the minute valves and valve springs.
from the "Kansas City Gallery Store" Franklin Mint Collection
Franklin Mint Retailer, eBay Seller, & Corvette Collector
This original-owner collection was purchased directly from The Franklin Mint and various gallery stores, then placed in his climate-controlled Corvette garage. Most were never opened and still retain their factory shrink wrap and tape!

Tier 1 condition - New Old Stock (NOS Mint in the Box)

Like-new, rash-free paint.

Includes Certificate of Authenticity or Collector's Portfolio, gloves, modeling tool, hangtag (if applies i.e. older releases do not include gloves or tool)

Excellent-good condition original boxes, some without postage or writing.

All models will be opened and carefully inspected by Vinny before shipment.
Part #: SK97
Condition: Mint-Like New in the ORIGINAL PACKAGING w/ Papers
Price: $495.00
ClearancePrice: $349.00
Status: In Stock