Franklin Mint / Mid America - Performance Choice 1986 Corvette Indy 500 Pace Car Ltd Edition / 1:24th Scale
Yellow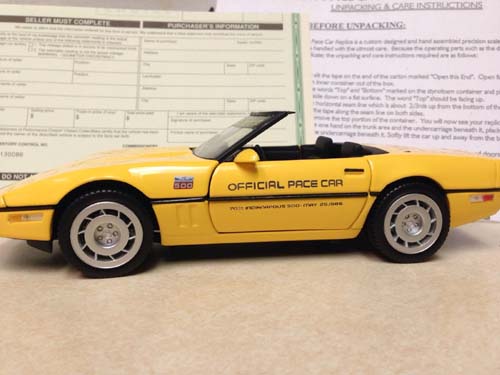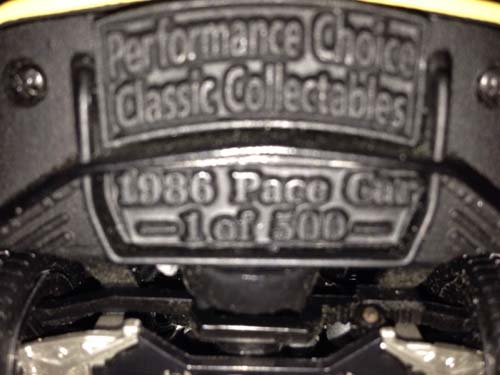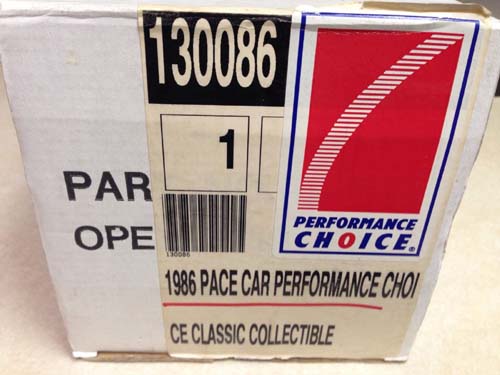 This was the lowest number production 'Mint' Corvette at the time of its production in 2003. 500 of them were configured from Franklin Mint's standard yellow 1986 Corvette replica into the 1986 Corvette Indy 500 Pace Car. "Mid America Designs, Inc.®" bought these 500 models from the mint to make the transformation and sell them. Mid America Designs is a company based in Effingham, Illinois and caters to everything Corvette. They sell all sorts of accessories, apparel, performance parts and even Corvette collectibles. After application of the Indy 500 Pace Car decals, Performance Choice®, the manufacturing subsidiary of Mid America, fabricated a special plate for these diecast cars that fits on the underneath nose of the car. It reads, "Performance Choice Classic Collectables". It is located where the standard model reads, "1986 Corvette Franklin Mint Precision Models". Additionally, the Pace Car has a further stamping below that reading, "1986 Pace Car - 1 of 500 -".

Before the stock was sold out, it was learned that proper licensing approval, for use of the Indy 500 brand and logo, were needed prior to any sale. This resulted in the remaining inventory being sold to a third party. The model sells for many times its original price due to its scarcity. Essentially the same model as the standard issue, the differences include the aforementioned stamping, the decal set for the Pace Car graphics on both doors, the Indy 500 logo on each front fender and the special box and papers.

The outside shipping carton is a common FM affair but has two large tapes on both ends of the box with part #130086 on it and the inscription, "1986 Pace Car Performance Choice Classic Collectible". Additionally, there are two red 'Performance Choice' labels affixed to the tape. The diecast comes with an instruction sheet for care and unpacking of the car and a, "Collector's Certificate of Title". It bears Mid America Designs, Inc. and Performance Choice logo's and reads as a genuine certificate of title to an automobile.
from the "Kansas City Gallery Store" Franklin Mint Collection
Franklin Mint Retailer, eBay Seller, & Corvette Collector
This original-owner collection was purchased directly from The Franklin Mint and various gallery stores, then placed in his climate-controlled Corvette garage. Most were never opened and still retain their factory shrink wrap and tape!

Tier 1 condition - New Old Stock (NOS Mint in the Box)

Like-new, rash-free paint.

Includes Certificate of Authenticity or Collector's Portfolio, gloves, modeling tool, hangtag (if applies i.e. older releases do not include gloves or tool)

Excellent-good condition original boxes, some without postage or writing.

All models will be opened and carefully inspected by Vinny before shipment.
Part #: WWM
Condition: Mint-Like New in the Box w/ Papers
Price: $775.00
ClearancePrice: $449.00
Status: In Stock