Franklin Mint / 2005 Ford Mustang GT / 1:24th Scale
Red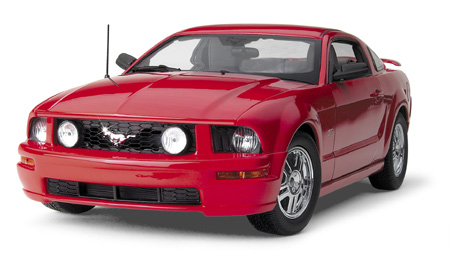 This is the 2005 Ford Mustang GT in red. The GT's paint is shiny, even and deep and the fit of each opening panel is excellent. The chassis detail is great. Heat shielding for the catalytic converters and exhaust pipes, ahead of the cross-over, are separately fashioned; working suspension and authentic paint coloration of part content is well carried out. Attention to minute detail, too, is really good on the 'Stang. The tiny 1:24th, "Ford" blue oval insignia on each wheel cap center is well defined and so is the, "Built with Pride" decal on the driver's side rear quarter window. "GT" rear valance moniker and chrome mustang on the finely crafted metal mesh grille are nicely done. FM added a scaled set of warning stickers to the engine bay. They can be seen on the radiator shroud, on the under part of the hood and perfectly scaled printed labels are scattered on various parts of the motor; like the oil filler, washer filler cap and hot water overflow tank, among others. FM carried this back to the door jamb too and also added a nice touch by using photo-etched metal to fabricate the door sill. The 'third brake light' just below the deck wing, is crafted in plastic, not merely painted-on, the rear shelf tray has nice detail as seen through the rear window and the exhaust tips are metallic and well formed. The interior is finely finished out and even attention was paid to the caution label affixed to the sunvisors. The antenna is finely scaled and black; correct for the application, and the engine bay, as mentioned already, is wonderfully appointed in scale detail. Fuel lines, plug wiring and hose applications are authentic and lend a genuine miniature look to the model. Even the seats show nice patterned definition.
from the "NY Scott" Bedroom Find DM & FM Collection
According to the seller, and in our opinion after inspection, these models were purchased and immediately placed into climate controlled bedroom storage. They were adult owned and never displayed, from a pet-free & smoke-free household.

Since the models were properly stored in their boxes, the paint is virtually free of any humidity based rash.

Most models include papers (see below for exactly what is included).

The original boxes are in excellent condition showing some storage wear.

This collection was acquired from a long time D4C Club member.

Satisfaction Guaranteed!
Part #: E258
Condition: Mint in the Box w/ Papers
Price: $49.00
Status: In Stock