Franklin Mint / 1903 Harley-Davidson "Birth of A Legend" Diorama / Limited Edition 9,900 / 1:10th Scale
Black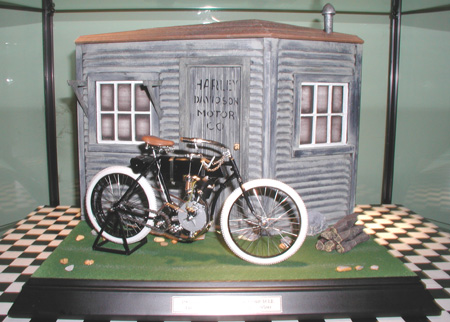 Display approximately 13" (33 cm) in length x 8" (20.0 cm) in width x 9 3/4" (24.8 cm) in height. Model motorcycle approximately 8" (20.3 cm) in length. Scale 1:10
Back at the beginning of the last century, in 1901, Mr. Harley and Mr. Davidson began tinkering with engines in order to motorize a bicycle. In 1903, after going back to the drawing board a few times, they produced their first "motorcycle." They weren't the first to produce a motorcycle but their determination and mechanical savvy started a company that, one hundred years later, is celebrating its centennial anniversary.
FM has put together another diorama to commemorate Harley-Davidson's landmark achievement. The display: Unlike "The Garage" and "The Softail Garage" dioramas, there's no interior detail – probably because details of the interior of the first H-D workshop are lost to antiquity. Nonetheless, the nicely detailed exterior view provides a nostalgic backdrop for the motorcycle. The cycle: As we've come to expect, the 1:10 scale motorcycle is a wealth of detail. With many movable pedals, levers and a spring-loaded, real leather seat, no detail seems to have been overlooked. When the pedals are rotated, the entire drive assembly rotates. Even the "chain" meshes with the teeth of the sprockets! All in all, this image is a fine presentation of one of the "launch-points" of transportation history.
I've been hoping one of the mints would do a 1:10 scale replica of one of the first Harleys. That FM chose to do a complete diorama, seems to be appropriate and fitting. After all, it's the 100th birthday of "America's Motorcycle."
from "Sam's Harleys" Franklin Mint Collection
The diecast motorcycles in this collection were purchased directly from Franklin Mint and immediately placed into proper display units. They were carefully repacked in their original boxes, and only needed light detailing once they arrived at PhillyMint.

All of the models have their original plastic module inside the styrofoam (if the model originally came with it). They came from a pet-free and smoke-free household.

All models include their original paperwork.

The original outside boxes are in excellent condition with very little storage wear.

This is an excellent collection of motorcycles that would meet the expectations of any Harley-Davidson collector. Satisfaction Guaranteed!
Part #: YF01
Condition: Mint in the Box w/ Papers
Price: 0.00
Status: SOLD! Thanks Roberto