Franklin Mint / 2007 Harley-Davidson Road King Christmas Motorcycle / Ltd. Ed. 2,500 / 1:10th Scale
Red & White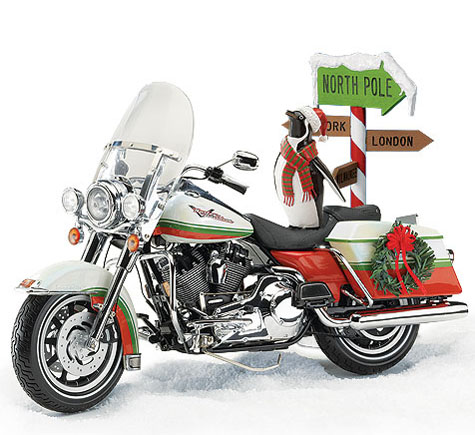 Santa uses his sleigh just one night a year. That leaves 364 days to tool about the North Pole any which-way he chooses. And what vehicle do you think he prefers? If your answer is the Harley-Davidson® Road King®, then add another wish to your Christmas list—and make it this year's Limited Edition Christmas Motorcycle.

You'll be glad you did. Here's the great American touring bike re-created in 1:10 scale and painted in the festive colors of everyone's favorite season—with holiday wreaths and bright red ribbons added for good measure. If Santa were ever to replace his sleigh with another vehicle, the Road King® would be it—what with the power of the awesome Twin Cam 88B® engine, and all that room in those hard saddlebags among the features replicated in this sensational model!

While the Rotund One is off on his annual gift-giving trek, a cuddly visitor from the other side of the globe keeps an eye on his Road King® parked in the shadow of the North Pole. That's what friends are for—especially at Christmas time!
from the "Arizona Dave" Franklin Mint 1:10 Harley-Davidson Collection
The majority of Harleys from this collection were purchased directly from Franklin Mint.

Arizona Dave, a lifelong Harley-Davidson enthusiast, displayed his models in glass display cabinets. From a smoke/pet-FREE environment.

All motorcycles in this collection were inspected by Vinny for broken or missing parts to ensure PM Heritage Collection standards.

The glossy paint finish is rash-free from the dry climate of Arizona.

All but 4 models include a Certificate of Authenticity and/or collector's portfolio and hang tag.

Mint-excellent condition original boxes that show they were well cared for while in storage. Some were purchased from Gallery Stores.

This first generation collection was enthusiastically maintained by a Harley Davidson enthusiast.

Satisfaction Guaranteed!
Part #: E499
Condition: Mint in the Box w/ Papers
Price: 0.00
Status: Out of Stock