Franklin Mint / 1950 GMC Truck - 2007 Christmas / Limited Edition 2,500 / 1:24th Scale
Red & Cream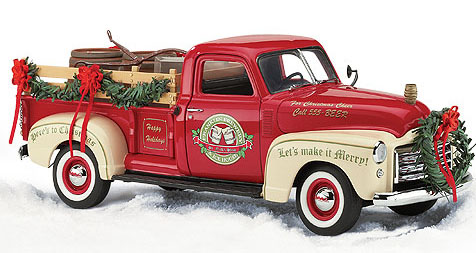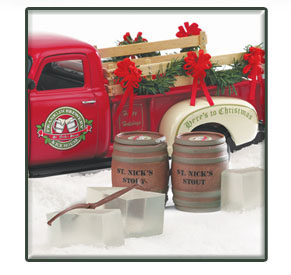 Long before the mini brewery, many a small town boasted its very own full-fledged brewery. And the cozy little town of Franklin was no exception.

The Franklin Brewery & Ice House was as much a landmark in Franklin as the corner drug store and Earl's Barber Shop. And each Christmas the folks at the brewery whipped up a special treat for the holidays—a little something called St. Nick's Stout, delivered by the keg to the fine folk of Franklin.

Listen closely and you can hear those kegs rattling around in the back of the brewery Pickup as it makes its rounds through Franklin. Better yet, enter your order for our 2007 Limited Edition Christmas Vehicle and experience a keg-full of nostalgia firsthand!

This 1:24 scale re-creation of the 1950 GMC® Pickup is all decked out for the holidays—with ribbons and wreaths and festive Yuletide greetings, not to mention scale-size kegs, blocks of "ice" and the tongs to lift them!

Recapture the charms of a small-town Christmas.
Part #: E500
Price: $0.00
Status: Out of Stock