Franklin Mint / 1970 Dodge Challenger 440 Six Pack Cvt. / FM DISCONTINUED / Ltd. Ed. 440 / 1:24th Scale
Panther Pink w/ White Interior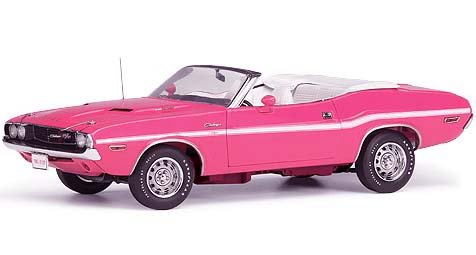 Seldom has a car been more aptly named. For this was the set of wheels that challenged the titans of the Muscle Car era as leader of the Six pack. Here's the definitive die-cast re-creation capturing every detail of the legendary Challenger 440 Six Pack. The uni-body platform, expanded wheelbase, and every detail of the brawny 440 ci V-8 fitted with three double-carbs – the fabled Six Pack.

Working features include seats that tilt back and forth, operable steering, rotating drive shaft, functional suspension, and doors, hood and trunk that open and close.

Not only did the Challenger lead the way in power and performance, it also achieved fame for its high-impact exterior colors. And nothing from the Dodge pallet was more flamboyant than Panther Pink, the very color chosen for these spectacular replicas. Your choice of hardtop or convertible … or both! Order each separately.
from the "Ohio Muscle" Franklin Mint Limited Edition Muscle Car Collection
According to the original collector- seller, the models in this collection were purchased directly from the Franklin Mint and returned for an exchange if the collector was not happy with their fit & finish.

They were then placed in their own individual model cases which locked them in to keep them virtually dust free and away from the sun! Pet & smoke free household.

I would rate the overall condition of this collection as #-1 or strong #2+, Mint in box or near mint .

The paint finish is like-new as delivered by FM without any incorrect handling causing humidity-based paint rash.

Savvy Franklin Mint collectors accept that these "later", low limited editions (produced towards the end of Franklin Mint production) have acceptable paint finish but not up to Danbury Mint standards of the same period. Having said that, these limited editions are highly sought after today because of their rarity and some have more than tripled in price from the last time I had them available on PhillyMint.com

Most models include hang tags, collectors portfolio, gloves , tool.

Most of the original boxes are in near-mint condition having been purchased directly from a gallery store without postage or USPS/UPS handling.

We proudly present this exceptional muscle car collection to you, Satisfaction Guaranteed, we pay for return postage if you're not happy! I'm confident that once you purchase one, you'll want to come back for more but don't delay! They will sell out fast. OMFM
Part #: E811
Condition: Mint in the Box w/ papers
Serial #172/440
Price: $375.00
Status: In Stock