Franklin Mint / 1965 Harley Davidson Electra Glide w/Side Car / 1:10th Scale
Red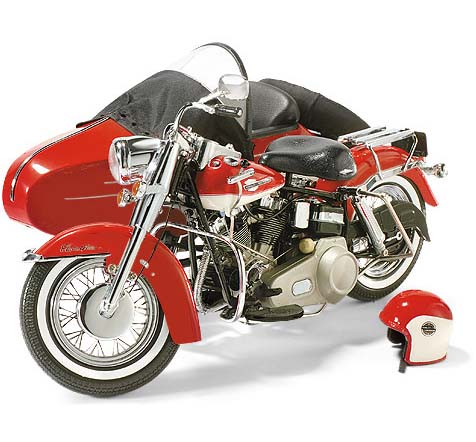 A legend as soon as it hit the road, the world-premiere Electra Glide® was powered by the last of the Panhead engines. It was also the first Harley® with a 12-volt electric starter system, making full-body stomps on the kick-start lever a thing of the past. Now, the smooth ride continues with this awesome precision re-creation, featuring every detail of the ultimate touring bike, right down to the precise re-creation of that powerful OHV Panhead engine, and gauge and instrument cluster on the fuel tank. Complete with sidecar, equipped with spare and scale-sized helmet included.
Technical Specifications
Engine: OHV 45° V-Twin

Bore & Stroke: 3.44 x 3.97

Displacement: 1208 CC (74 CI)

Horsepower: 60 @ 4500 RPM

Compression Ratio: 8.0:1

Induction System: Carbureted

Transmission: 4 Speed

Top Speed: 100 MPH
Wheelbase: 60 Inches
Operating Features
Rear Suspension: The suspension can be experienced by gently pressing on the seat.

Front Forks: The front forks have been fitted with small springs to simulate the fork travel experienced on the real motorcycle.

Wheels: The front and rear wheels roll freely and the front wheel pivots.

Drive Belt: The rear wheel is connected to the drive belt, so that the belt rotates when the wheel rolls.

Gear Shift Lever: The gearshift lever is located on the lower left front, kickstand side of the frame.

Kickstand: The kickstand is located on the gearshift side of the motorcycle frame below the footrest.
Poseable Sidecar Cover: The cover on the sidecar can be positioned towards the front or the back.
Part #: E848
Condition: Mint in the Box
Price: $0.00
Status: Out of Stock