Franklin Mint / 1968 Shelby Terlingua Racing Team Fastback / Limited Edition 250 / 1:24th Scale
Black "WITH" Yellow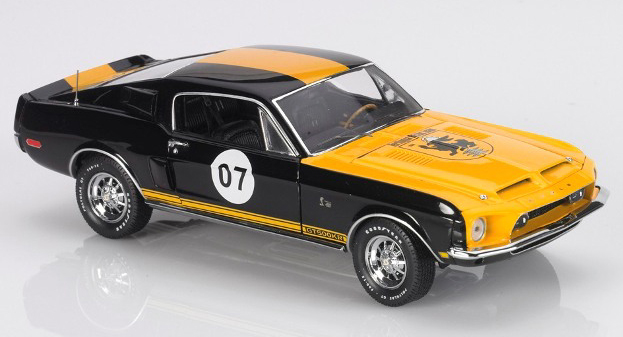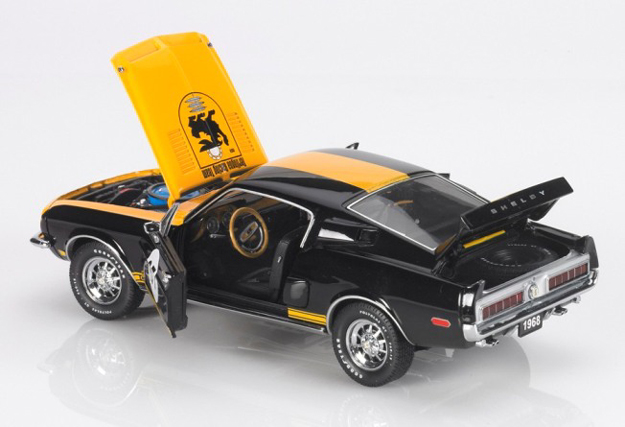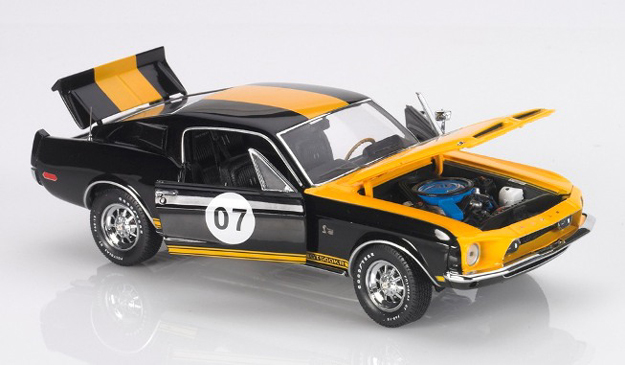 The Terlingua Racing Team's roots began when Ford Motor Company asked Carroll Shelby to turn its Mustang into a race winner. "We were a bunch of young hot rodders when we formed the Shelby Terlingua Racing Team," noted Carroll Shelby, Founder of Shelby Automobiles. As a symbol of their lifestyle, Bill Neale designed the now famous black and yellow logo, with a rabbit holding his paw in the air. Shelby also said, "Some of the greatest racers in the world competed in Terlingua Shelby Mustangs. Ken Miles was the first to put the 'prancing rabbit' in the winner's circle when he won the race at Green Valley Raceway in 1965. Then things really broke loose when he introduced Jerry Titus to the team." Titus became one of the most iconic Terlingua racers when he drove for the Shelby team in the 1967 Trans-Am series. He piloted the first "official" Terlingua Racing Team car. The combination of outrageous looks and serious performance in a car driven by such a cocky, talented driver made the team very popular. And it seems the Terlingua Racing Team is even more admired today by drag racers, drifters and road racers."

Throughout the decades, drivers put Terlingua Racing Team badges on more and more cars; some were official Shelby entrants while many were not.
Terlingua Racing was Carroll Shelby's way of "thumbing our noses at the establishment," according to Carroll. That pretty much defines the tone that is Terlingua. Shelby and Terlingua decided to go racing, and that is when history was made. The incredible Ken Miles was Terlingua's first driver, and none finer ever sat behind the steering wheel of a race car. He made winning look easy. From Cobras to Ford GTs, Ken was the champion's champion, till his tragic death in a testing crash at Riverside Raceway in California.
Terlingua's next legend was Jerry Titus. Carroll Shelby, Jerry Titus, and the team that was Terlingua Racing won the Championship they weren't supposed to win: the 1967 Trans-Am title.
The now-famous Terlingua Racing Team rabbit logo paint and graphics adorn these specially commissioned custom painted Franklin Mint Precision Models. The Terlingua Team won a regular basis. From drag racing to stock cars, insiders have proudly adorned the Terlingua Racing Team shield. Own this memorable part of history, as Terlingua Racing and these prestigious models under the same name have come back to life.
from the "Ohio Muscle" Franklin Mint Limited Edition Muscle Car Collection
According to the original collector- seller, the models in this collection were purchased directly from the Franklin Mint and returned for an exchange if the collector was not happy with their fit & finish.

They were then placed in their own individual model cases which locked them in to keep them virtually dust free and away from the sun! Pet & smoke free household.

I would rate the overall condition of this collection as #-1 or strong #2+, Mint in box or near mint .

The paint finish is like-new as delivered by FM without any incorrect handling causing humidity-based paint rash.

Savvy Franklin Mint collectors accept that these "later", low limited editions (produced towards the end of Franklin Mint production) have acceptable paint finish but not up to Danbury Mint standards of the same period. Having said that, these limited editions are highly sought after today because of their rarity and some have more than tripled in price from the last time I had them available on PhillyMint.com

Most models include hang tags, collectors portfolio, gloves , tool.

Most of the original boxes are in near-mint condition having been purchased directly from a gallery store without postage or USPS/UPS handling.

We proudly present this exceptional muscle car collection to you, Satisfaction Guaranteed, we pay for return postage if you're not happy! I'm confident that once you purchase one, you'll want to come back for more but don't delay! They will sell out fast. OMFM
Vinny's "Used"Cars
Part #: S11G356_VUC
Condition: Near Mint in the box w/ papers
One of the best paint finishes I've seen on this model.
The roof & hood/ top of fenders has extremely light paint rash, you can barely see it.
Sold As Is-No Returns
Serial # 163/250
Price: $495.00
Status: In Stock