Franklin Mint / 1948 Harley Panhead / 1:10th Scale
Blue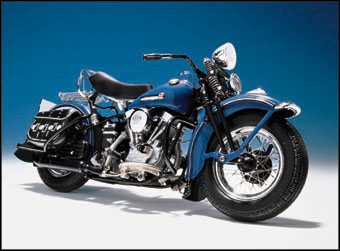 It rocked the world in 1948. Now it will rock yours. The first Panhead. The machine that established Harley-Davidson as the premier post-war motorcycle manufacturer. Recaptured in phenomenal detail. From the "wishbone" tubular frame, to the rear fender mounted saddlebags. As well as the chrome-plated rocker covers that resembled upside-down cake pans, from which the nickname Panhead was inspired. Complete with a seat upholstered in real leather. And loaded with authentic operating features that include operable springer-front suspension, and kickstand, tank shifter and brake pedal that actually pivots. Hand-painted in authentic Harley-Davidson® colors.

Presented by Franklin Mint Precision Models in association with Harley-Davidson® on the 50th Anniversary of this classic Harley-Davidson®, this definitive die-cast re-creation of the legendary Panhead is assembled by hand from more than 150 separate parts.

The first motorcycle engine with hydraulic lifters, the Panhead engine replaced the legendary Knucklehead engine in 1948. Before the Panhead, all OHV motorcycle engines had mechanically-actuated valves. The new hydraulic lifters were designed to compensate for expansion, due to engine heating and for inevitable valve-train wear while effectively eliminating lash and noise.

In 1948, there was a variety of Panhead models to choose from. Three versions were offered for each displacement size. The 48FL bike had a 74 cubic inch solo twin engine with 7:1 compression. The bikes came with a standard four-speed engine, although a three-speed and a three-speed with reverse were available options at no additional cost.

Aside from the hydraulic lifters, the Panhead also offered new cylinder heads, which were completely redesigned from the previous models. Harley-Davidson had seen the advantage of aluminum construction, correctly believing that aluminum would be cheap and plentiful following the war, and because aluminum heads shed heat faster than iron.

The new motorcycles for 1948 were available in four different colors: Azure Blue, Flight Red, Brilliant Black and, for the Police Group only, Police Silver. Paint was applied only after parts were first treated with a bonding agent ("Bonderizing") that also acted as a protection against corrosion.

Now, the historic first Panhead, the 1948 Harley-Davidson® FL, is re-created in a precision-engineered replica from Franklin Mint Precision Models. The First Panhead: 1948 FL is crafted in authentic detail and truly captures the excitement of this magnificent motorcycle. It is certain to be admired by all who see it.

Technical Specifications
Engine: 45° V-Twin, 4-Stroke, OHV, Pushrod Operated with Hydraulic Lifters and Aluminum Cylinder Heads
Displacement: 74 CID and 61 CID
Transmission: 4-Speed
Induction System: 11/4" Linkert M Series Carburetor
Frame: "Wishbone" T Tubular Cradle Frame with Rigid Rear End, Sprung Saddle and Offset Springer Fork
Production (1948): 12,924

Operating Features
Kickstand: The kickstand is located on the left side of the motorcycle frame, providing a three-point rest like a real motorcycle.
Rear Stand: The rear stand is located at the rear wheel, below the fender.
Front Suspension: The front forks of the model have been fitted with small springs to simulate the strut travel experienced on the real motorcycle.
Footbrake: Gently depressing the rear brake pedal will simulate application of the rear brake.
Wheels: The front and rear wheels roll freely and the front wheel assembly pivots authentically on the frame at its mounting spot.
Drive Chain: The rear wheel is connected to the drive chain so that the chain rotates when the wheel rolls.
Gearshift Levers: The gearshift lever may be pivoted to the desired position.
from the "New England Harleys" Franklin Mint Collection
The Franklin Mint diecast motorcycles in this collection were purchased directly from Franklin Mint and immediately placed into climate controlled bedroom storage. Most models were never removed from their styrofoam, some were never even opened until they arrived at PhillyMint.

All of the models have their original plastic module inside the styrofoam (if the model originally came with it) and packing material. They were stored in a pet-free and smoke-free household.

Most models include papers. See the description below.

The original outside boxes are in excellent to mint condition with very little to no storage wear.

This is an exceptional collection and it's as close as a collector can get to buying directly from the Franklin Mint if they were still producing models today.
Part #: WW88
Condition: Mint-Like New in the Box w/ Papers
Price: $120.00
Status: In Stock