Franklin Mint / 1930 Ford Model A Tudor / FM Discontinued / 1:24th Scale
Gray-Green-Black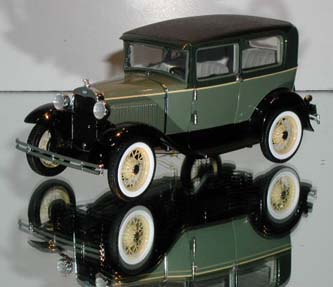 Visually stunning, the two-toned green over black paint scheme is electric on this Model A. The creamy yellow stripe and matching wheels intensify the effect. The spoked wheels are photo-etched metal, as are the windshield wiper and internal metal tethers which limit the outward movement of the windshield. The silver flying quail which graces the radiator has become familiar to most of us, but the new top treatment solves some problems found on pre-existing models. With earlier offerings the vinyl frequently peeled over time. On the Tudor the fabric-grained plastic is seamlessly embedded into the roof. Completing the exquisite look of the exterior is the license plate from 1930 that you add from whatever state you choose. Attention to detail underneath shows in a well-presented chassis and even includes delicate mechanical brake lines running fore and aft. The doors close with the same snap as do FM's 1940 Packard Darrin. The same technology applies; there is an indentation in the body that mates up with a small black rubberized piece of material to hold the doors in perfect closed alignment.
Inside, the seats fold forward and up. The 'fabric-feel' of the seats extends to the door panels which even include tiny map pockets on each door. I filled my driver's side pocket with the 1:24th scale map provided. The handle and window cranks are exactly replicated. The white Fedora looks awfully good sitting on the passenger's side. But wait, what is that dangling from the diminutive dash? A key and key fob hangs from the ignition switch. Does it get better? Oh yeah. The engine bay bristles with tremendous detail. Brake and fuel lines, spark wires, it's all here with amazing accuracy to scale.
from the "Darby Estate" Franklin Mint Collection
The majority of this Darby, Pa. collection was purchased directly from Franklin Mint and placed in climate-controlled, spare room storage. Most models were never removed from the original box, never displayed, dust-free.

The paint finish is mint without any humidity-based paint rash.

Some of the models include paperwork. See the description below.

Good condition original boxes, slightly brown from storage.

Most models have their original packing material.

Satisfaction Guaranteed!
Part #: YE09
Condition: Mint in the Box w/ Papers
Price: $95.00
Status: In Stock