Franklin Mint / 1966 Shelby Cobra 427 S/C Aluminum Body / FM DISCONTINUED / 1:24th Scale
Aluminum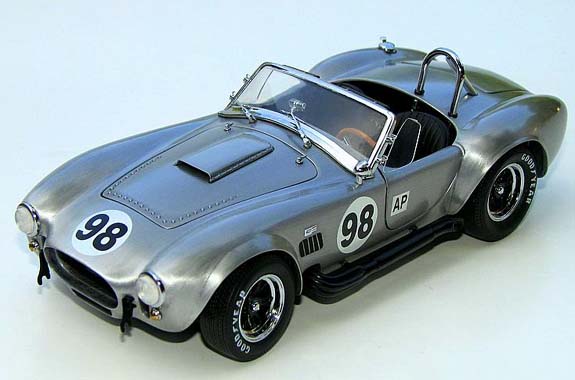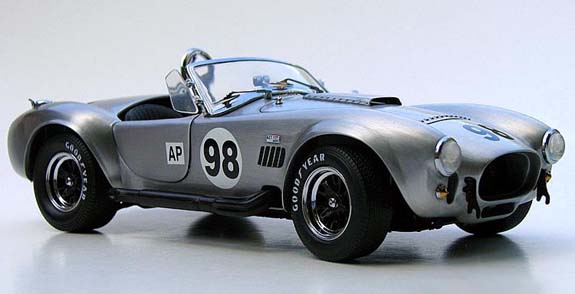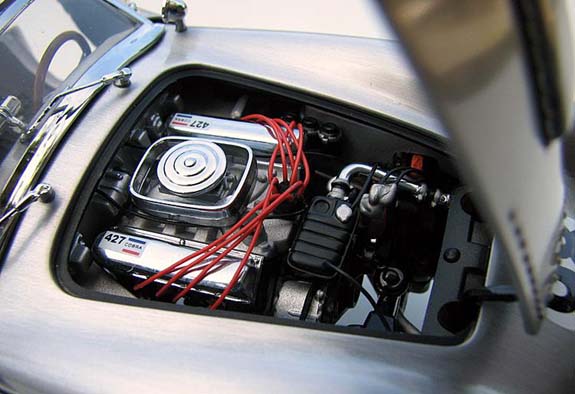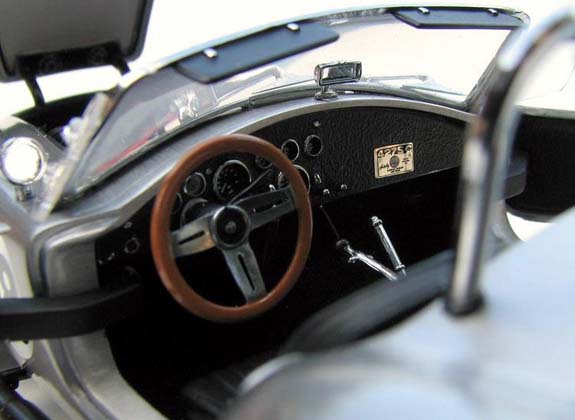 The 'Collector's Guide' that accompanies this model terms it "Carroll Shelby's Cobra 427 S/C". They do so for good reason; Franklin Mint has undertaken the replication here, of Mr. Shelby's personal 1966 bare aluminum big block snake. Like Shelby's unpainted roadster, this model too, is aluminum! The diminutive replica is light and almost delicate to the touch. The body appears perfectly proportioned. Unlike a few of the many 1:18th scale diecasts of the Cobra, the rake of the windshield is 'right' on this 1:24th model and so too, are the rear fender arches. The stance is flawless on my example and that's with articulating suspension. The interior is magnificent for such a Spartan subject. The gauges are 3-D and the seat belts are leather. The dual battery, behind the right seat is wired. But look at the dash plaque with a magnifier. It shows the chassis plate for CSX 3056 in perfect detail. The engine is a marvel if not a nest of snakes. Plug wires, vacuum lines, detail hoses, etc. Look inside the front wheel well from below and you'll see ductwork. While you're at it, check out the fuel lines running chassis-length to the rear. There are rear axle lines and gas lines going to the Stewart-WarnerŪ dual fuel pumps in the trunk. Even the chassis exhibits the 'weld beads' on the tubular frame. This one is 5 stars!
from "Tony's New Jersey" Franklin Mint Collection
Most of the Franklin Mint diecast cars in this collection were purchased directly from Franklin Mint and other secondary sellers. They were immediately placed into enclosed glass display cases. The models were then placed into climate controlled bedroom storage approximately 7 years ago.

The paint finish is glossy and in excellent condition. Vinny's Used Cars will offer those models that were displayed without enclosed cases and are too dusty to offer as mint condition.

Some models include papers. See the description below.

The original boxes are in very good condition with some writing or shipping labels.
Part #: YF05
Condition: Mint in the Box, No Papers
Price: $149.00
ClearancePrice: $119.00 (Save 20%)
Status: In Stock