Franklin Mint / 1940 Ford Pickup "Old Reliable" / 1:24th Scale
Rusty Brown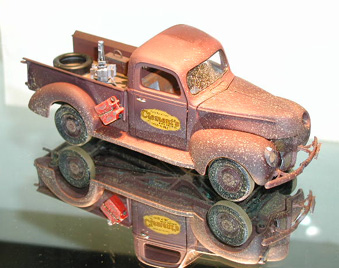 This model is the "Old Reliable" '40 Ford pickup that FM did to resemble an old junker that's been rusting away out in the fields for years. FM went beyond ordinary detailing on this model, but that's why they call it precision, right?. Flanking the busted up grille is a yellowed headlight on one side and a missing headlight on the other. The wiring harness for the bulb hangs out. Specks of chrome show through the rusty bumper and this detail is also used on the wheels. The dirty old flathead must have still been running when the old girl was parked, probably never to run again. Both cables are still connected to the battery. A piece of wood is supplied to prop up the hood. In the pickup bed is a trans, tool box, hammer, an old spare tire, a cinder block and a corroded engine block.
The windshield and rear glass have realistic cracks in them. Basically, the whole interior is filthy, not having been cleaned in years. Stuffing spills out from the torn and beat up vinyl seat cushion and a duct tape patch is on the seatback. A couple of magazines rest on the seat. Strewn on the floor is an old winter hat, an empty Cola six pack and crushed cans. Some wires hang out of the empty holes in the dashboard where the radio and gauge cluster used to be.
The weathered body is splattered with mud and applied in a way as if the truck was driven thru mud puddles. The tire treads are full of mud and the undercarriage is also spattered. You get the idea. Don't wait forever on this one. It's on the FM endangered species list.
from "Nikki's Orlando" Franklin Mint Collection
The Franklin Mint diecast cars in this collection were purchased directly from Franklin Mint and immediately placed into storage in Virginia where the models spent most of their life, until relocating to Florida. Most models were never removed from their styrofoam.

The paint finish is glossy, like-new. Vinny's Used Cars will offer those models with moderate to severe paint rash.

Most of the models have their original plastic module inside the styrofoam (if the model originally came with it) and packing material.

Most models include papers. See the description below.

The original outside boxes are in very good condition with black marker writing.
Part #: YS96
Condition: Mint in the Box, No Papers
Price: 0.00
Status: SOLD! Thanks William