Franklin Mint / 1941 Lincoln Continental Mark I / FM Discontinued / 1:24th Scale
Light Blue Metallic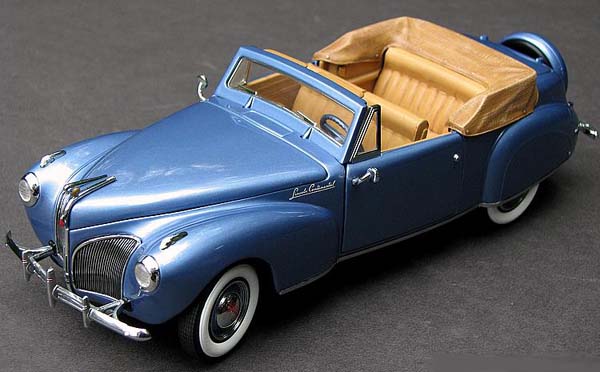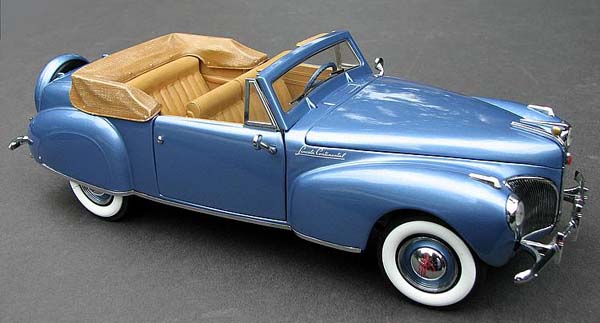 Franklin Mint had many paint choices for this car. There were no less than 8 authentic blues from which to choose for the re-paint of the popular image. They settled on what I would consider the best, Darian Blue.
The 'Limited Edition Internal Ford Use Only' issue, now discontinued, has been increasingly hard to find. This version gives those that could not obtain that model a chance to have a limited edition 1941 Lincoln with the following enhancements. Just in front of the outside rearview mirror on each side is the added script, "Lincoln Continental" in white. "Lincoln V-12" is now emblazoned in red on each of the hubcaps including the one in the continental carrier in the rear of the automobile. The steering wheel, in body color, has a white center with black "Lincoln" script. Finally, inset deep in the trunk is the hand numbered limited edition plate shown as xxxx/9,900. Differing from the Ford Use Only version, where the seats were tan with a beige boot, the interior of the new car is a saddle color. It is reminiscent of warm caramel and complimented by a convertible top boot of a slightly darker shade. The carpet is a light brown.
from the "Franklin Mint Early Classics" Collection
The models in this collection were purchased directly from Franklin Mint 25-30 years ago, and immediately placed into climate controlled storage.

The paint finish is like-new and rash-free!

These are some of the very first diecast models offered by FM in the late 1980's.

The models were adult owned, most never removed from their styrofoam and many were opened for the first time for inspection by Vinny!

All of the large scales have their original plastic module and packing material.

Many include paperwork. See below for what is included.

The original outside boxes are in good condition showing storage wear and writing.

Most models in this collection are the larger pre-WWII 1800's-early 1900's that we seldom get in this condition. This is an unique find.
Part #: ZN22
Condition: Mint in the Box w/ Papers
Price: 0.00
Status: SOLD! Thanks Allen