Franklin Mint / 1970 Corvette Convertible / Limited Edition 9,900 / 1:24th Scale
Red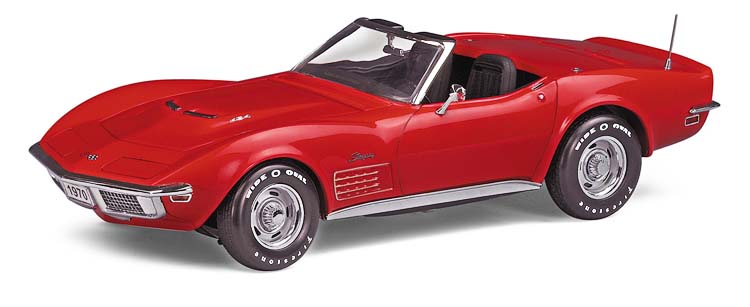 A brand new mold utilizing a real fiberglass body!
This is the 1970 Chevy Corvette Convertible, limited edition of 9,900. It includes excellent paint finish and a great overall fidelity. Monza Red is not easy to capture in photographs but every nuance of the color was caught by FM's modelers perfectly. It has new chrome metal foil badges and emblems where once there might have been old tech tampos. Nice upgrades. Maybe that "Future Premium Floor Finish" trick is called for here. New door hinges, the internal, realistic type, on this little treasure. The doors, like the entire model itself, are lightweight and open and close flawlessly. The interior is nice; not overly detailed to death but has all the right components. Movable sunvisors and an opening top deck would have been welcome but these do not detract very much. Back on the positive side of the tally, we see operational headlights, a nicely scaled antenna and a gorgeous big block engine compartment. The labeling is accurate for the 454, 390 horse mill and the wiring and detailing is carried out very thoroughly. One other really nice bonus, especially in light of the good price point, two tops. One is the auxiliary hard top in matching body color and the other is the soft top version crafted in black.
from "Barry's Empire State" Franklin Mint Collection
This collection was purchased directly from The Franklin Mint, opened for inspection but never removed from their boxes. Most original tissue and packing materials are intact. The models were then stored in his climate-controlled spare room.

Tier 1 condition - New Old Stock (NOS Mint in the Box)

Like-new paint as delivered from Franklin Mint.

Includes Certificate of Authenticity, blue sheet or how-to-care instructions.

Good condition original boxes with some writing on the end flaps.

This is a well cared for Franklin Mint collection. Satisfaction Guaranteed!
Part #: E247
Condition: Mint in the box
Price: $120.00
Status: In Stock