Franklin Mint / 1954 Chevrolet Bel Air Sport Coupe / Limited Edition 2,500 / 1:24th Scale
Onyx Black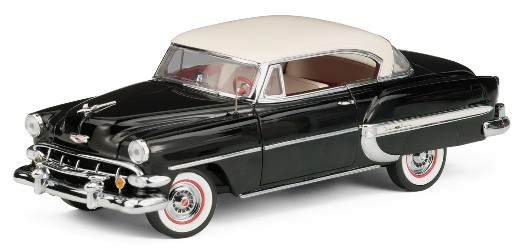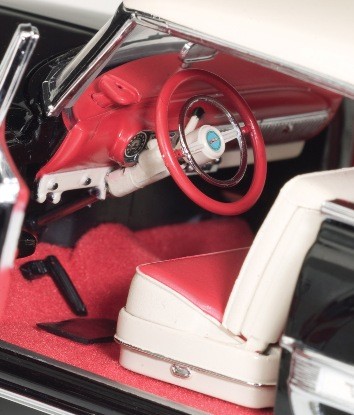 With its long list of options and five unique body styles, the 1954 Chevrolet® Bel Air® delivers performance and dynamic Fifties-era design. Powered by the "Blue Flame Six" spirited performance, this striking Onyx Black and white two-toned precision model is hand assembled from over 100 parts and offered in a strictly Limited Edition of 2,500 pieces worldwide, exclusively through Franklin Mint Precision Models.

On the outside, the Bel Air® was handsome. Its two-tone finish was accented by full-length sidespear moldings and a rear double-molding containing the name "Bel Air®." Lavished with chrome on the rocker panel and body belt moldings and fitted with bright gravel guards and rear-wheel fender skirts, the Bel Air® was both practically handsome and stylishly sporty. It was no wonder that Bel Air® remained the top series for 1954.

Now, the ultimate family car is re-created in a 1:24 scale precision-engineered model from Franklin Mint Precision Models - the 1954 Chevrolet® Bel Air®. Authentic in every detail - from its Onyx Black finish with contrasting white roof to the "Blue Flame" engine under the hood - your 1954 Chevrolet® Bel Air® is certain to be admired by all who see it.

In 1954, America was flush with success. Business was booming, families were growing and life was good. And so into this rosy, optimistic time the 1954 Chevrolet® Bel Air® was born. Reflecting the euphoric spirit of the times, the 1954 Chevrolet® Bel Air® had robust good looks, speed and spunk - and its commodious interior was perfect for America's growing families.

The Bel Air® line had expanded from four body styles in 1953 to five in 1954, with a four-door station wagon added to the lineup. There was an array of extra features such as carpeting, full-wheel discs and an electric clock, but it was the "Blue Flame" engine under the hood that truly separated the Bel Air® from the rest of the pack. Shared by both the Bel Air® and the Corvette®, the "Blue Flame" was a powerplant that displaced 235.5 cubic inches and provided a power rating of 125 bhp at 4,000 rpms with Powerglide two-speed automatic transmission. It was the perfect power for cruising home from a business trip or merging into traffic with a car.
Part #: F910
Condition:
Price: $0.00
Status: Out of Stock