Franklin Mint / 2004 Corvette Cvt. / Indy 500 Pace Car / Limited Edition 5,000 / 1:24th Scale
White/blue w/ American flag theme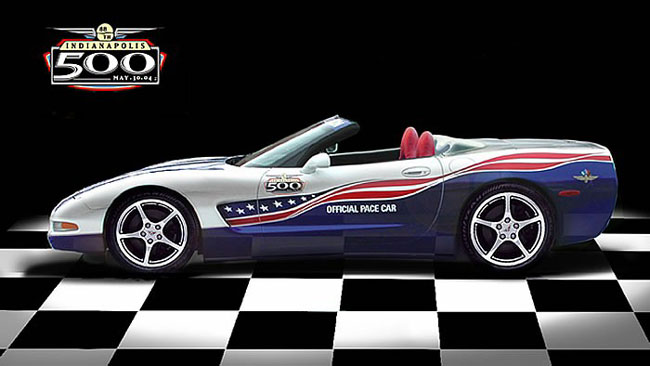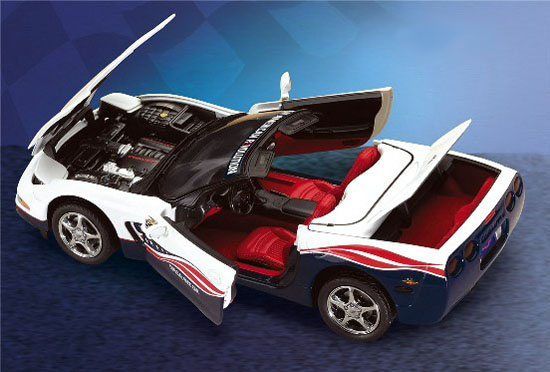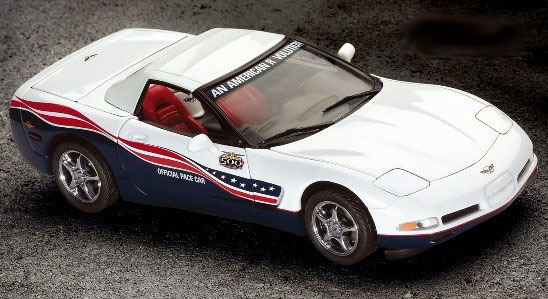 The 88th running of the Indianapolis 500 on May 30, 2004, brought together two powerful symbols that stir the imaginations of enthusiasts around the world...Chevrolet and the Indianapolis Motor Speedway...as a 2004 Corvette Convertible served as the Official Pace Car of the 2004 Indianapolis 500.
Corvette performed Indy 500 pace car duties for a record sixth time. It also marked the third consecutive year and 15th time overall that a Chevrolet product has served as the official pace vehicle - the most appearances by any brand.
The Indianapolis Motor Speedway has been the site of many memorable events since the facility opened in 1909. Similarly, Chevrolet has a rich heritage in racing that extends back to company co-founder and namesake Louis Chevrolet, a gifted engineer and talented race car driver who competed in the Indy 500 four times. More recently, Chevy Indy V8 engines have won 103 open -wheel races, including seven Indianapolis 500 victories.
A white and blue two-tone paint treatment incorporates Americana-themed graphics, tying into Chevrolet's "An American Revolution" marketing theme.
Part # E029
Condition:
Price: $0.00
Status: SOLD! Thanks Alan!