Franklin Mint / 1968 Ford Mustang High Country Special / Limited Edition 1,000 / 1:24th Scale
Candy Apple Red w/ White Top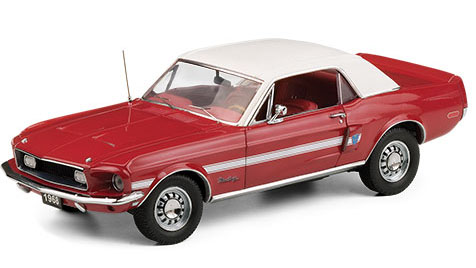 Approximately 7 7/8" (20 cm) in length
In 1968, Ford answered the public's call for an updated version of the '67 Mustang with one of the most iconic American performance cars of all time — the Mustang High Country Special.

Featuring Shelby®-like trim and accents on a hardtop body, each car came with unique High Country badging and dynamic body stripes. One of the most highly sought collectible die-cast cars, these Franklin Mint Precision Models are hand-assembled and hand-painted in vibrant Candy Apple Red or glistening Sunlit Gold, each a detail-exact replica of the classic original.

Total production in 1968, of the actual High Country model, was 251.
Part #: G328
Condition:
Price: $0.00
Status: Out of Stock