Franklin Mint / 1967 "Ultra" Corvette Roadster /Limited Edition 427 units/ 1:12th scale
Marina Blue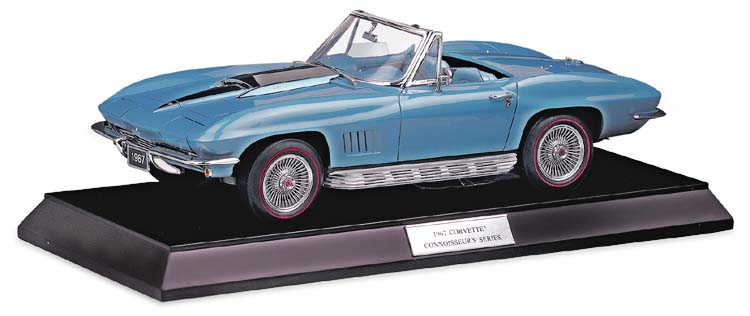 Corvette diecast...... king size. Precision details that only 1/12th scale can bring out. This is the ultimate diecast for the Corvette collector.
Beautiful paint, tight door and body panel gaps. Removable top. Everything works in the interior. Ash tray, glove box, shifter, hand brake, windows roll up. Engine compartment nicely done, wiring, clutch fan removable air cleaner. Knock-off wheels are removable, working driveshaft and suspension, metal shift mechanism. Working features: tail/brake lights, headlight hi/low beams, reverse light with shifter, ignition, and the horn sounds.
Part #: E301
Condition: New in the box, Serial #75/427 Batteries Never installed, working features not tested.
Includes 14 page copy of the Collectors Guide Car & Handling Instuctions
Price: 0.00
Status: SOLD! Thanks Solon