Franklin Mint / 1967 Corvette Convertible / 2003 Catalog Sales Only Numbered Ltd Ed 2,000 / FM DISCONTINUED / 1:24th Scale
Marina Blue w/ White Stinger/ White Interior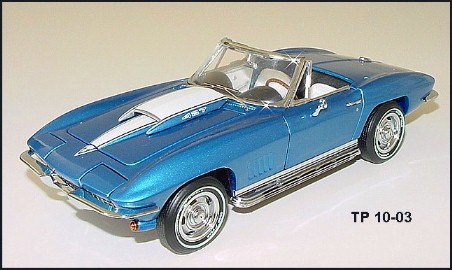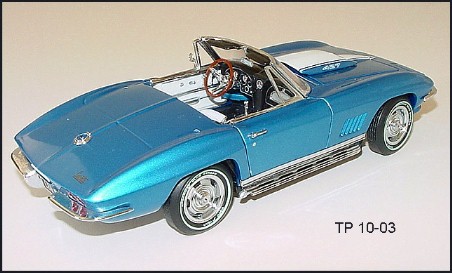 One of the more lovely repaint limited editions, Franklin is sparing us the new images but revitalizing some of their more favorite sellers. In this case, the oft-done 60's icon of Corvette lovers, the 427 muscle car supreme, the '67 Stingray. Originally in Tuxedo Black with blue stinger stripe, the car sold immensely well. It carried the L88 engine, one of only 20 isseued in 1:1. Though listed at 430 hp, it was well over 500. The image was issued in 1994. In 1999, FM made a brave departure and issued the car model in clear cast plastic. A delight to look at, or through, it still wasn't quite ready to retire. As a "Rally Event" car, it was reissued in Elkhart Blue in an edition number of 3000. This revision, 8/2003, may very well be the best iteration, painted in deep metallic Marina Blue with white stinger. This car carries the L89 option. Still a 427/435, it featured aluminum cylinder heads. The interior is white and black. To be correct, however, the sun visors should be white but this tiny detail does not detract from the overall image. Tires are Speedway Blue Streaks. This item was available for a short time in 2003 through catalog sales only. It sold out by the end of the year and remains today one of the most sought after Franklin Mint Corvettes.
from the "Kansas City Gallery Store" Franklin Mint Collection
Franklin Mint Retailer, eBay Seller, & Corvette Collector
This original-owner collection was purchased directly from The Franklin Mint and various gallery stores, then placed in his climate-controlled Corvette garage. Most were never opened and still retain their factory shrink wrap and tape!

Tier 1 condition - New Old Stock (NOS Mint in the Box)

Like-new, rash-free paint.

Includes Certificate of Authenticity or Collector's Portfolio, gloves, modeling tool, hangtag (if applies i.e. older releases do not include gloves or tool)

Excellent-good condition original boxes, some without postage or writing.

All models will be opened and carefully inspected by Vinny before shipment.
Part #: C552
Condition: Mint in the Box w/ Papers
Price: $220.00
ClearancePrice: $154.00
Status: In Stock