Franklin Mint / 2006 Harley-Davidson Softail Deluxe / Limited Edition 9,900 / 1:10th Scale
Black & White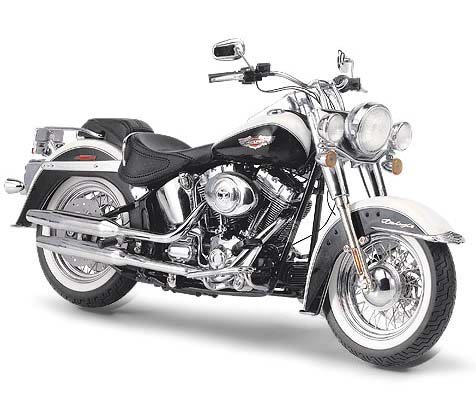 Looking for the perfect combination of retro style and a bold, road-hugging power? Heavy on the nostalgia, easy on the ride, this 2006 Harley-Davidson® Sotail® Deluxe features all the appeal of the original - from the flawless TC88B® motor to the vintage whitewall tires.

For generations of motorcycle enthusiasts, Harley-Davidson® bikes have been considered nothing less than rolling works of art. Then in 2006, the Harley-Davidson® Softail® Deluxe raised the bar to a whole new level for that most coveted of distinctions, masterpiece. The 2006 Softail® Deluxe features timeless hardtail styling with long barreled shotgun pipes, pullback riser and handlebar, and long floorboards. The low profile is especially characteristic of this bike, in fact, the rider sits only 24 1/2 inches off the ground. The low seat with its grab rail, the integrated luggage rack and Tombstone taillight top off the low silhouette, making the Softail® Deluxe look like nothing else to hit the road in decades.

Note as well the clean front light bars with bullet turn signals and the big retro-style speedometer, all mounted on a wrinkle black and chrome covered Twin Cam 88B® engine, available carbureted or with port fuel injection. Based on the V2 Evolution™ engine, the Twin Cam 88B® has counter rotating balancers in front of, and behind, the bottom end flywheel assembly. The balancers, integrated within the engine, dramatically improve the quality of the riding experience on the hardtail mounted Softail® models. The 88B® engine weighs 14 lbs. more than the 88, but the balancing system is maintenance free for the life of the engine. The ride is further smoothed out with a big fat rear tire under a new wider fender and a hidden rear suspension, giving the wheel a full 4 inches of travel.

Destined to become a classic, the 2006 Harley-Davidson® Softail® Deluxe continues to provide the safe, comfortable, smooth ride for which Harley-Davidson® bikes have long been famous. Now, Franklin Mint Precision Models celebrates this remarkable combination of style and engineering in this faithfully recreated die-cast model. One you will be proud to own and display in your collection for years to come.
Part #: E411
Condition:
Price: $0.00
Status: Out of Stock