GMP-Muscle Cars / 1989 Ford Mustang Drag Car / Limited Edition 500 / 1:18th Scale
Candy Burgundy Metallic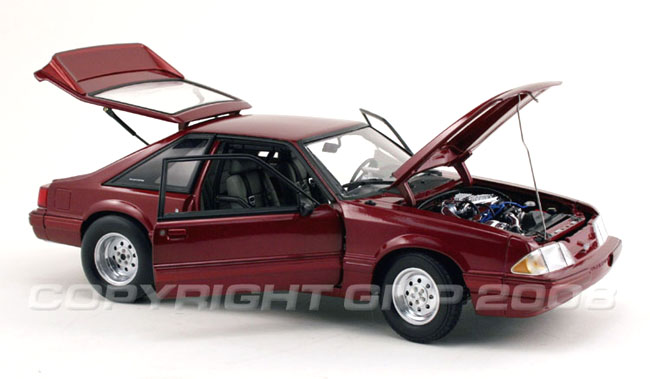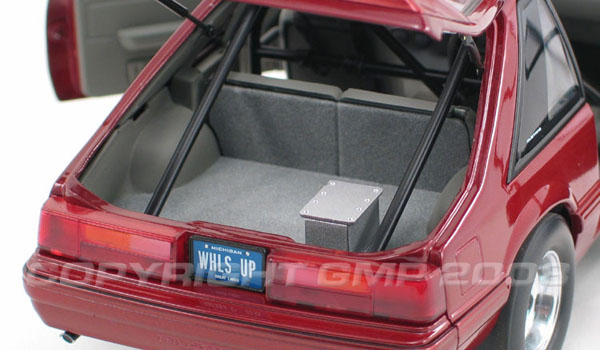 FOUR INCH COWL HOOD HIDES THE PONIES...
ALL NEW ENGINE DETAIL INCLUDING CHROME PLATED HOLLEY SYSTEMAX INTAKE MANIFOLD, COLD AIR INTAKE, POLISHED VORTEC SUPERCHARGER SYSTEM WITH CUSTOM BRACKETS AND PULLEYS, CUSTOM UPPER RADIATOR HOSE, HEI IGNITION, OFFROAD H-PIPE, CUSTOM CAT-BACK EXHAUST,AND MUCH MORE
RACING WHEELS AND TIRES, FIVE POINT HARNESSES, OPENING EVERYTHING, ACCURATE RIGHT DOWN TO THE REAR HATCH STRUTS AND FRONT PROP BAR!
CUSTOM ROLLCAGE WITH REMOTE MOUNTED BATTERY BOX, FATS OUT BACK AND SKINNIES UP FRONT... WHEELS UP!
Part #: 1801828
Price: $0.00
Status: Out Of Stock