Vinny's "Used"Cars

Vinny's Used Cars, a PhillyMint tradition since 1992. They can be displayed proudly as "3-footers" (from three feet away, they look great). Ambitious modelers & do-it-yourselfers can rub out & polish imperfections where noted. In many cases, the paint is like-new, mint in box. Please read the descriptions for details.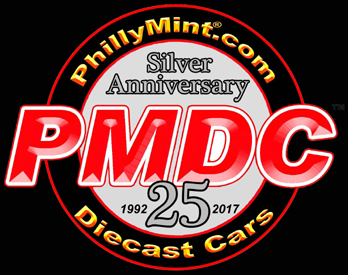 Special Discounted Shipping for Vinny's Used Car buyers
$9.95 for one model, $5.00 each thereafter (from Vinny's Used Cars ONLY)
PayPal customers will initially pay the normal shipping rate, then will be refunded the difference once we process your order.
Updated 12/4/17 3:20pm
Vinny's Excellent Condition
This group of models listed in the table below are from an estate sale. They do not have any missing parts or damage, but some may need fine detailing to bring to mint condition.
***********************************************************
Danbury Mint
Franklin Mint
Other Brands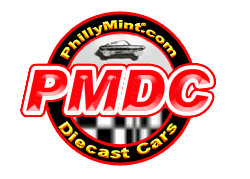 "LIKE" us on Facebook!

Follow us on
Vinny's Buyers Policy
---
The descriptions used on "Vinny's" are not to be confused with other pages on the PhillyMint site or other diecast sites on the internet. Models on Vinny's that are listed with defects are distressed and sold as-is. Models without defects listed are #1 First Quality New or Mint minus paperwork or when noted, styrofoam box only, missing outside box (FM shipping sleeve).
The descriptions such as mint, excellent; etc, are used to describe the overall condition of the model WITHOUT THE FLAWS spelled out in the condition column. Obviously a model described as mint, with a broken mirror is not mint. But by the same token a model played with in the neighbors sandbox is distressed but not to the same degree. You should have a pretty good idea of the overall condition WITHOUT the defects. ALL "Vinny" SELECTIONS LISTED ARE NON-RETURNABLE and are sold AS IS. We do our best to describe whatever imperfections or defects that may be present. However, if you discover a defect that we may have missed, the model is NOT RETURNABLE-SOLD AS IS, NO EXCEPTIONS, NO UPS DAMAGE CLAIMS. We carefully bubble wrap models that don't have the original box. We then double-box. Models are sold without papers unless noted .
M or MIB-Mint: Like new as if purchased direct from the manufacturer in the year it was released.
E- Excellent: Always cared for and displayed correctly. Covered or protected, no dust, major defects or signs of wear. The models may have needed light cleaning because of display "film" caused by a non-airtight display. There may be minor paint rash on a panel or 2 that could be rubbed and polished out. Acceptable to most all collectors and diecast enthusiasts.
G- Good: A former "dust car" that may need cleaning and detailing. Minor repair may have been done correctly, minor to moderate paint rash may be present. A presentable model with all the correct parts.
D- Distressed: Missing parts, damaged or severe paint rash. Some can be displayed, others for parts only.
---
PO Box 157  Glendora, N.J. 08029
Phone:856-228-0152    Fax: 856-227-5850
vinny@phillymint.com


We Ship International