Danbury Mint / 1965 Corvette Coupe 327 Fuel Injection / DM DISCONTINUED / 1:24th Scale
Nassau Blue w/ white & blue interior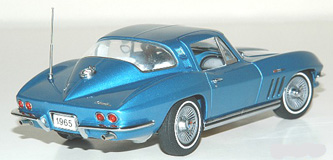 There was a reason that Nassau Blue was the most popular color for the Corvette in 1965, it is stone gorgeous! A revision of Danbury's maroon 1965 beauty in drop-top form, this coupe is breathtaking in person. What sets off the exterior is the snow white leather interior and the thin whitewall tires mounted on the cast aluminum knock-off wheels. This version comes with a highly desirable fuel injected engine. Rare for 1965, Corvette only sold 771 of these L84 327 cubic inch, 375 horse power cars.
You'll find all of the precious nuances that make the convertible model such a stand out, in the coupe. The metal badging work on the car's side fenders and the "Corvette" script on the rear deck are magnificent. The fit and finish is true Danbury precision and the stance of the model is perfect on the working suspension components. The engine is a masterpiece. Basically carried over from the '63 black coupe, there seems to be a slight improvement in the fuelie unit, more refined and scaled-in. Metal fuel lines can now be seen on the master cylinder unit. This is a different version that used on Corvette's '63 car.
The interior work is excellent; folding seats, carpeting, dash detail and the highly crafted door panels, all combine to present a wonderful display piece. Of course the antenna extends, the hood has a working prop rod and the fuel filler door opens. Like the '63 and '65 cars, the spare tire and wheel is removable from the rear carrier and the lights pivot open. A truly beautiful car has once again been captured in miniature scale by the Danbury folks. 5 well-earned stars on this effort
from the "Ohio Bob" Danbury Mint Collection
According to the seller, and in our opinion after inspection, these models were purchased directly from Danbury Mint and placed on display in a glass cabinet. They were adult owned and never played with, from a pet-free household.

This collection required Vinny & Nicole to perform light detailing to bring the models to near-mint condition. Since the paint finish was not subjected to improper storage (in their boxes), the paint is virtually rash-free!

Most models include title with original owner's name and/or care instructions.

This is an original-owner, first generation collection that is priced to sell.
Part #: DM1331M
Condition: Near-Mint in the Box, No Papers
Price: $149.00
ClearancePrice: $120.00 (Save 20%)
Status: In Stock