Danbury Mint / 1957 Chrysler New Yorker Sport Coupe / DM DISCONTINUED / Limited Edition 5,000 / 1:24th Scale
Coral & White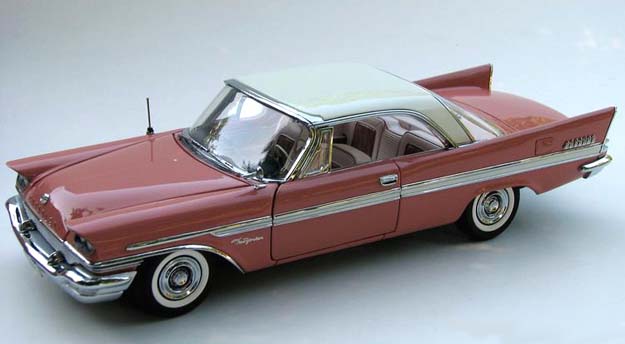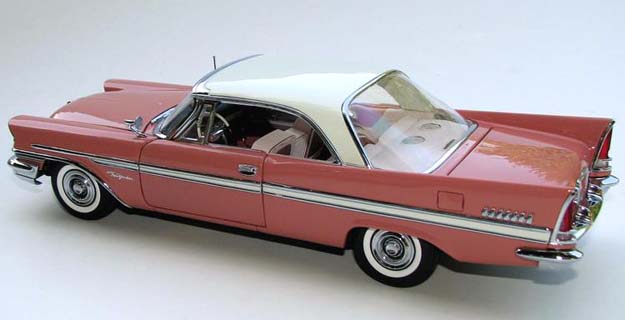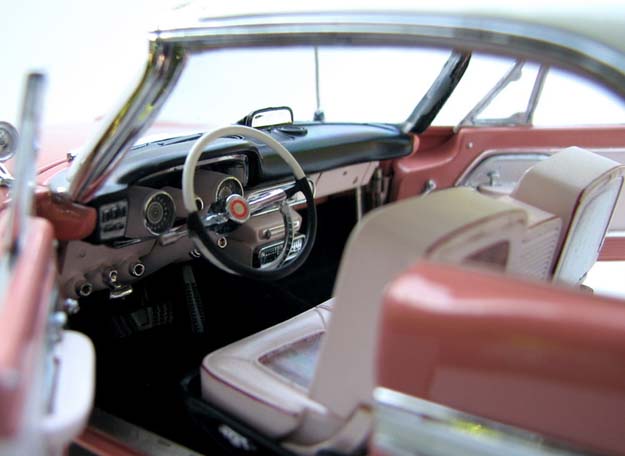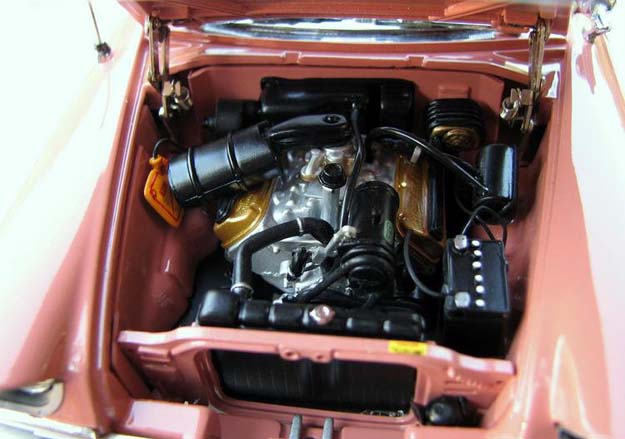 Scale 1:24; 9-1/8" in length.
It's amazing how different DM can make one mold look, given thorough research, careful assembly and, finally, a reasonable understanding of color (this combo is PRIMO, imho!!!), and the creativity to roll all of it together..and you've got this, the 4th life of the 300C. As in your face as the 300C is, the New Yorker turns down the volume tad, showing a more conservative but still innovative presence. The added delight here is these cars are actually more intricately detailed than the original white 300C. The interiors, for example, sparkle with 50's lavish in bright pastels that compliment the exterior paintwork. The result is eye-candy par excellence. These are real keepers...and given the stratospheric rise of discontinued DM LE prices, these 2 Chrysler New Yorkers are a pair of keepers. If you are fortunate enough to own one of the convertibles, you really need this Coupe to complete the set!
from " The Ron Giannone Estate" Danbury Mint Collection
Ron Giannone was a longtime customer & friend of PhillyMint. He was a meticulous collector and we are proud to present his diecast collection to you.

The models in this collection are in "mint" or "near mint" condition. The majority were purchased directly from Danbury Mint. Some were placed in enclosed display cases, most were placed in storage and never displayed.

Adult owned from a pet-free & smoke-free household.

Since the models were properly displayed or stored, the paint finish is as delivered by Danbury Mint.

Most models include titles & care instructions.

The overall condition of the boxes is near mint.

Satisfaction Guaranteed, each model has been inspected by Vinny.
Part #: DM1300M
Condition: Mint in the Box, w/ title & care instructions
Price: 225.00
Status: In Stock